We Ain't Going Nowhere! Tribunal on Ethnic Cleansing
Amadi Ajamu | 3/2/2018, 12:42 p.m.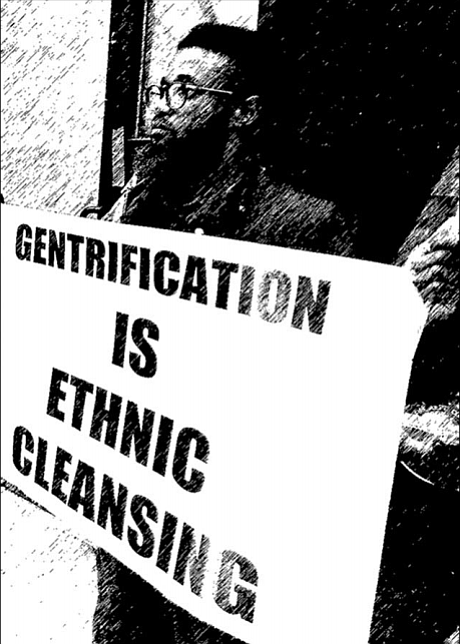 A city-wide "We Ain't Going Nowhere! Tribunal on Ethnic Cleansing of the Black Community," will be held on Saturday, March 3, 2018 at 1PM at Bedford Stuyvesant Restoration 1398 Fulton Street, Brooklyn.
NYC. Tribunal sponsor Dec 12th Movement has led an ongoing campaign focusing on human rights abuses aimed at pushing Black people out of urban areas.
International human rights attorney, Roger Wareham said, "Black people in the U.S. are victims of ethnic cleansing. We demand a more precise definition and recognition of the current escalating criminal assault on both Black life itself, as well as on the quality of Black life
The Tribunal Judges will be Victor Goode, Esq., Law professor at CUNY School of Law and former Executive Director of the National Conference of Black Lawyers; Joan Gibbs, Esq., former general counsel for the Center for Law and Social Justice Center at Medgar Evers College in BK; and King Downing, Esq.,Director of Mass Defense for National Lawyers Guild, founder of the Human Rights-Racial Justice Center, and former national coordinator of the ACLU's Campaign Against Racial Profiling.
The judges will here testimony from experts, community organizations, and individuals. The tribunal will be followed by a national tribunal later this year. All testimonies will be documented and submitted to the UN Special Rapporteur on Racism, racial discrimination, xenophobia, and relate intolerance, Ms. E. Tendayi Achiume.
"Displacement is not simply a housing issue. The erasure of Black people is seen in many areas – e.g., health, education, criminal justice, employment, business, our right to self-determination, murder by police, the all-sided attack on our culture", Wareham concluded.
For more information on endorsement or submission of testimony contact the Dec 12th Movement at (718) 398-1766 or D12M.com.