NYCHA Chair pens open letter to residents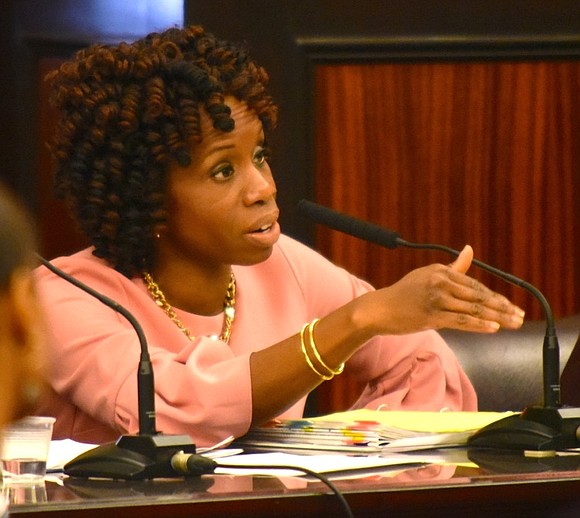 NYCHA Chair and CEO Shola Olatoye sent an open letter to residents on Friday marking her four-year anniversary since taking the the job. Olatoye highlighted various problems in the public housing including lead inspections, heat and hot water outages and the hiring of 8,000 residents through the Resident Economic Empowerment and Sustainability (REES) department. Here is the full letter:
Dear Residents:
Today I celebrate my fourth anniversary as Chair and CEO of NYCHA, fighting on behalf of the 1 in 14 New Yorkers who rely on us for housing. I want to take this opportunity to reflect on how much we have accomplished, but also how much further we have to go to achieve our NextGeneration NYCHA goal of providing safe, clean, and connected communities for everyone who lives in public housing. I would like to say up front that I know these past months have been difficult and have distracted from the real work of improving the quality of life for our residents. While the headlines have been ugly, and the attacks have at times been quite personal, at no point has my commitment to you or my staff ever wavered.
You know better than anyone that there have been decades of poor decisions and underfunding at NYCHA. I am going to be honest, the results of that reality are not easy to change. But in the last four years, we have balanced our budget, initiated real solutions to our most serious problems, started making vital repairs in our buildings – your homes – and reduced crime throughout our developments.
Despite these huge strides, we have let you down in other areas. The lead inspections should never have been stopped in 2012, and the ongoing inspections now need to be done accurately and efficiently to protect our youngest residents. We are working toward full compliance. More than that, though, we owe it to you to get this right.
Also, while we saw the most extreme prolonged cold spell in almost 50 years, the heat and hot water outages were unacceptable. Despite serious steps taken to avoid these types of outages – including additional measures to protect our boilers, emergency actions to respond to the extreme cold, extra 24/7 teams, and even a "Situation Room" staffed by 14 different departments – we saw an unacceptable number of problems. Since then, the Mayor has provided $13 million for immediate repairs and an additional $200 million for long-term fixes at 20 developments that are home to 45,000 residents. As New Yorkers, you have a right to adequate heat, and there is no excuse for falling short of that.
This is not just rhetoric and it is not just to make excuses – my team and I are changing the way we do business for the residents we serve. NYCHA has significant challenges, but we have an obligation to preserve housing for you and the next generation of residents. I will not let the media circus get in the way of that incredible responsibility, which I take very seriously.
In the last four years, we have also been improving resident quality of life. Our Resident Economic Empowerment and Sustainability (REES) department has facilitated over 8,000 resident jobs through training and union apprenticeship programs. We have increased resident representation through new Resident Associations, and there is a more transparent and equitable Tenant Participation Activity process. We also launched 14 Youth Leadership Councils, a Resident Leadership Academy, and speed mentoring programs to connect public housing residents to this city's many great resources.
I will never stop fighting for public housing because it is an invaluable part of this City we all love and call home. I am honored to be the Chair and CEO of the New York City Housing Authority and to serve you in this role. There's been incredible progress these past four years, but I know every day is another opportunity to keep improving.
Onward,
Shola Olatoye
Chair & CEO NYCHA