Anti-violence activist Rev. Vernon Williams dies at 59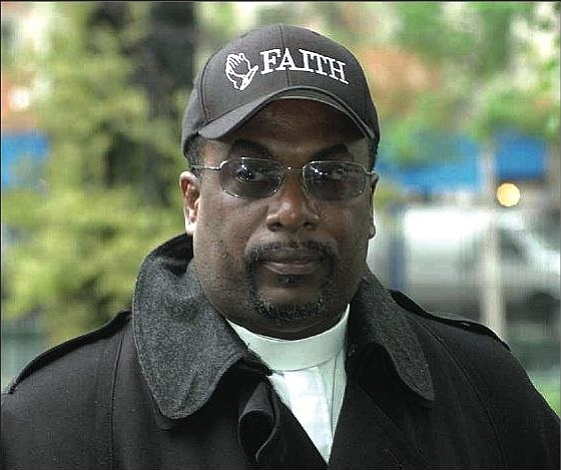 The Rev. Vernon Williams was a key figure in New York City's anti-violence movement often seen walking the streets at rallies and helping families who suffered loss by violence. He died Sunday at age 59.

Williams' stepson, Tyler Brailsford, confirmed the passing. Williams suffered a heart attack while at church teaching Sunday school and later died at St. Luke's Hospital.
"He loved what he did and even in his final moments he was doing what he loved," his wife Gail said.
His eldest son Vernon Williams Jr. said the family has received an outpouring of support and that his father is being remembered as a man who liked to help everyone.
"He was a good man," he said. "He was constantly trying to perfect himself."
Known as a community leader, Williams was the head of the Harlem-based organization Perfect Peace Ministry. He often spoke directly to neighborhood gangs to put their guns down. In an interview, Williams said he would put his life on the line to save youth.

"One wise man once said, 'If you aren't willing to stand up for something, you will fall for anything.' I am willing to put my life at risk for our young people because they are our future," Williams emphasized. "If young people keep dying at younger ages, the end result is that we aren't going to have a fruitful future."

Born in Philadelphia, Williams moved to New York when he was an infant, living in Harlem, the Bronx and spending some time in Brooklyn. As a youth, he became involved in drugs, gangs and violence on the streets, leading him to spend nearly 10 years in prison.

At age 34, he decided to become a minister, receiving his license in 1999 and becoming ordained in 2000. He graduated from the Drew Theological School in 2005. 
Williams later became the leader of the Harlem Clergy and Community Leaders Coalition. He was also known for his work with the NYPD giving officers tours of neighborhoods they would patrol.

Community activists, politicians and leaders knew Williams worked in abundance to keep the city safe. Jackie Rowe-Adams, founder of anti-violence organization Harlem Mothers SAVE, said Williams' passing is a big loss for the community.
"He saved so many lives," she said. "He was there when no one else was. He was a street minister and a man of God and he was an angel to so many people."
A.T. Mitchell of Brooklyn's Man Up, Inc. said Williams was the ideal modern day activist pastor.
"Rev. Williams was one of those members of the clergy on the frontline and in the trenches working with communities that needed it most," he said. "He got the city's attention on gun violence."
Harlem State Sen. Brian Benjamin remarked that Williams was a constant reminder of the importance of giving people a second chance.
"He was incarcerated as a young man and when he got out, he devoted his life to becoming a minister to save the next generation of youth. It's a very say day in Harlem. We lost someone so committed to our community," Benjamin said.
Funeral arrangements for Williams not been announced yet.