VIDEO: Howard University students head to Puerto Rico for hurricane recovery
Tatyana Hopkins (NNPA Special Correspondent) | 3/6/2018, 9:49 a.m.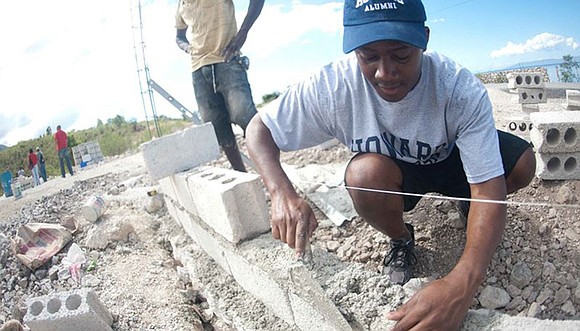 The National Newspapers Publishers Association this week is providing unprecedented coverage of Howard University students historic efforts to aid residents of Puerto Rico devastated by last fall's Hurricane Maria. Tatyana Hopkins of the Washington Informer will provide daily stories, photos, video and social media to NNPA newspapers of the students' efforts. She will also examine the continued struggles of millions of U.S. citizens to put their lives back together.
WASHINGTON—When Oluwakanyinsola Adebola signed up to do community service as part of Howard University's Alternative Spring Break, she knew she wouldn't be joining her classmates and thousands of other college students who use their week off to party and play in the sun and surf of Jamaica or Aruba or any of a half dozen other Caribbean locations.
Instead, Adebola would be part of the hundreds of Howard students who, each year for more than 20 years, have given up their traditional spring breaks to serve in communities in need in places like Atlanta, Chicago, Detroit, Baltimore, Memphis and New Orleans.
Ironically, Adebola will travel to a Caribbean island after all. She will be in Puerto Rico aiding the millions of U.S. citizens still struggling to recover from Hurricane Maria, which hit the island on September 20.
The storm, which had 155 mph winds, caused at least $90 billion in damage, destroying thousands of homes, killing at least 60 people and decimating the island's already deteriorating power grid. Currently, about 1,200 generators power some of homes, hospitals and schools while seven larger, more powerful energy centers, called microgrids, provide energy to key areas near important buildings like hospitals and schools.
Electricity, however remains a challenge. Recurring blackouts plague the island, and about 340,000 people, are still without power. The blackouts have upset traffic and interrupted water service to dozens of neighborhoods, including the historic Old San Juan in the nation's capital.
The Federal Emergency Management Administration has been providing relief and rescue efforts, providing meals and water to residents.
Adebola and 47 other students, accompanied by two faculty advisors, land in Puerto Rico Friday, March 9, and begin a week of work on Monday, March 12. The ASB participants will paint schools and fix homes and churches in and around San Juan, the island's capital.
Howard students will also visit and assist in the daily activities at two Boys and Girls clubs in Las Margaritas and Bayamón about 20 minutes outside of San Juan. Students and faculty will be staying about an hour west of San Juan at a campsite in Arecibo, six people to a room.
This year, no students applying for ASB knew where they would be placed when they signed up for the annual service missions. Applicants selected a service preference ranging from "children/orphanages" to "prison rehabilitation." The luck of the draw would determine at which of this year's 15 service sites they would be placed.
Adebola, an ASB first-timer, said when she checked "recovery" on her application, she thought she would be going to Houston or Belle Glade, Fla., two U.S. cities that also were hit hard by hurricanes last fall. She said she never expected to be placed in Puerto Rico.