Ailey II Kicks off 2018 season
Zita Allen | 3/8/2018, 2:23 p.m.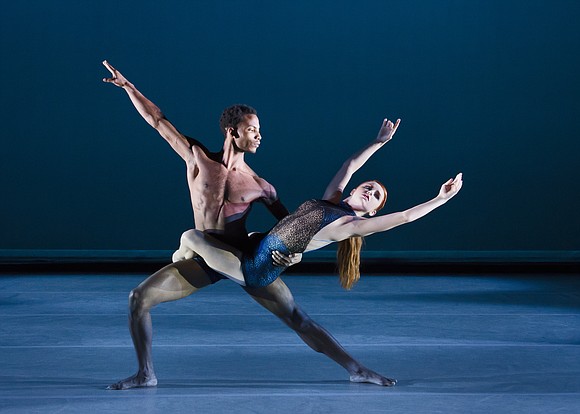 This season's program includes works Artistic Director Troy Powell says offer New York audiences an opportunity "to experience the strength and grace of exciting choreographers on the rise in the dance world and works that also showcase the virtuosity, energy and prowess of Ailey II dancers."
The excitement of watching new stars appearing on the horizon is what Ailey II audiences have long enjoyed as, year after year, they've seen young talent such as Jeroboam Bozeman and Fana Tesfagiorgis light up the Ailey II stage before making the leap to the Alvin Ailey American Dance Theater or to other dance troupes. Ailey II draws dancers from as close as the Bronx, such as Khalia Campbell, and as far away as France, such as Adrien Picaut. All shine in both the All New program, featuring world premieres "Road to One" by Darrell Grand Moultrie, "Touch & Agree" by Juel D. Lane and "Breaking Point" by Renee I. McDonald, and the program of contemporary favorites, with works by Jae Man Joo, Bridget L. Moore and former Ailey dancer Marcus Willis.
Moultrie, who has created previous works on Ailey II, returns with "Road to One," a dance that passionately embraces the quest for meaning in our lives. Powell said, "Darrel's work is so joyous and at a time when everything is so dark, we need that. I also wanted to bring them a choreographer who challenges them by highlighting their gifts and pushing them even further."
Jamaican-born McDonald's "Breaking Point" is her first work for Ailey II. The impressive list of companies she has worked with includes The Company Dance Theatre in Kingston and the National Dance Theatre Company. Her piece has been described as an intense depiction of the fight for our heart's desire, whether it is love, friendship, forgiveness or a secret longing, it's something that takes us to our limit. The work is suitably paired with the bold, pulsating sounds of Audiomachine, highlighting McDonald's high-powered, modern-based choreography that captures the willpower needed to keep up "the good fight" until you hit your breaking point.
Rounding out the three works on the All New program is Lane's "Touch & Agree," which Powell said reflects his desire to present works that push the edge of the envelope in a positive and exciting way. "I've had him on my mind for several years now," said Powell. "First, I invited him to teach company class. Afterward, I asked if he would be interested in choreographing a work on Ailey II. He was speechless. That's the kind of reaction I want because it lets you know he's been praying on it for a while and that he will bring that passion into the studio." Apparently that is precisely what he did.
"Choreographers always create dances based on their style of movement and Juel is a beautiful dancer," Powell said, noting that Lane trained at the North Carolina School of the Arts and performed with Ron K. Brown/Evidence. Currently, he dances with the Bessie Award-winning Camille A. Brown & Dancers.