'Black Panther' has teachable tools for organizers
OMOWALE ADEWALE | 3/8/2018, 3:50 p.m.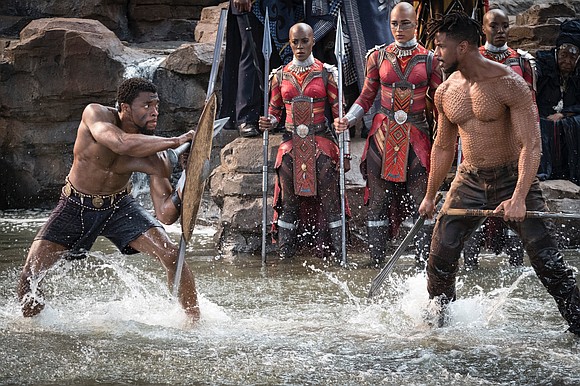 The film "Black Panther" garnered $900 million at the box office since the President's Day weekend opening and during Black History Month. The goal of colossal film openings is to make gigantic stacks of cash. It's no secret, mega-parent company Disney and Marvel wanted to make money. It's capitalism and no country does it like the U.S.
Yet, there are eight reasons why "Black Panther" is not your everyday Hollywood blockbuster and exists as a revolutionary masterpiece for organizers to educate the African Diaspora.
African art, culture and customs
As a Black community organizer for approximately 20 years, one of my most significant and difficult tasks has always been to transform the everyday community member into a community organizer. We need to replenish human resources and develop sisterhood and brotherhood among our African people. Toward that end, Black people must know that they are African people. Being Black is not limited to having melanin.
"Black Panther" accomplishes this objective in the opening scene by identifying African artifacts and noting that Europe stole Africa's art and culture. Erik Killmonger plays coy with the museum curator as she describes the different artifacts that he questions her about. He then corrects her on the last piece, although it was from a fictional country, it underscores the point that Africa has rich art and culture for millennia.
Of course, the entire film is rife with African art through the wardrobe and set design. In addition, there is the circle of elders and younger men and women from the Wakandan families. "Black Panther" gives the Black community the visual of seeing African families discuss as a unit.
A different type of Hollywood director
Let's take a back step for a minute to learn who the genius behind "Black Panther" really is—Ryan Coogler, the co-writer and director. In a Vanity Fair video interview, Coogler goes off the usual Marvel Comics script to interweave the concept of liberation and Pan-Africanism. Pan-Africanism is the ideology of activists and organizers that unites members of the African Diaspora. It is hopeful to hear Coogler explain to viewers, "The Pan-African flag is red, black and green." The clothes color combinations of Nakia, Okoye and T'Challa is not by accident.
Coogler first debuted as director and co-writer of "Fruitvale Station" (2013). The Oakland-born director beautifully transformed a budget of $900,000 into $17.4 million in sales, which is why he was tapped by Marvel executives in the first place.
"Fruitvale Station" was based on Oscar Grant III's last day on earth and his untimely death at the hands of a white police officer on the Fruitvale Station platform in Oakland, Calif., in 2009. Coogler chose to humanize the whole person of Grant and briefly share the problems of police-profiling and the slew of powerful protests against police murder that followed Grant's death.
Black women are the most valuable asset
There are numerous signs that indicate the filmmaker decided to not create Black actresses out of stereotypical caricatures only to exist as love interests. First up, Shuri, acted by Letitia Wright. She is the young genius who is responsible for the advancement of the modern Wakandan society. Shuri oversees the production and design of the military machinery and arsenal. She is also prepared to fight whenever necessary.