Film Independent Spirit Awards: The best of indie celebrated
Lapacazo Sandoval & Art Shiran | 3/8/2018, 2:02 p.m.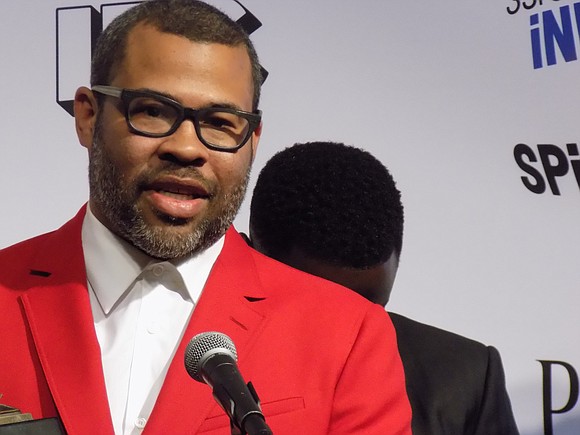 There is something wonderful about the Indie Spirit Awards produced by Film Independent, the nonprofit arts organization that also produces the LA Film Festival. Despite the high caliber of talent, financiers and executives who hit the Santa Monica beach, it's the energy of new talent mixing with established talent that makes this event something really special. The ceremony aired live on IFC and Facebook Watch.
In addition to being the celebration that honors artist-driven films made with an economy of means by filmmakers whose films embody diversity, innovation and uniqueness of vision, the Spirit Awards is the primary fundraiser for Film Independent's year-round programs.
The 11th annual Robert Altman Award was given to one film's director, casting director and ensemble cast. "Mudbound" director Dee Rees received this award, along with casting directors Billy Hopkins and Ashley Ingram and cast members Jonathan Banks, Mary J. Blige, Jason Clarke, Garrett Hedlund, Jason Mitchell, Rob Morgan and Carey Mulligan.
The 2018 Roger and Chaz Ebert Foundation Fellowship annually selects an outstanding filmmaker and participant in Project Involve, Film Independent's longest running diversity and mentorship program, now in its 25th year. The fellowship includes an unrestricted cash grant of $10,000 and was awarded to writer/director Faren Humes, a distinct and bold new voice.
Producer Effie T. Brown's ("Dear White People") passionate speech was a needed jolt, and her keynote address was highlighted with an action plan.
"I've been here at Film Independent for 23 years," said Brown, adding, "That is the longest relationship I've ever had, besides my parents, and they can't kick me out either."
Keeping with that mindset, Brown briefly spoke about diversity, urging the audience to use their money to pave the way for more inclusive content. "There are only two ways we have made the change in systemic oppression: shame and money," she said. "Our weapon is our voice, and our bullets are our dollars. We cannot support financially the people and places and things that are not inclusive, that participate in oppression"
Following are the highlights:
Best Feature—"Get Out" (Universal Pictures); producers Jason Blum, Edward H. Hamm Jr., Sean McKittrick and Jordan Peele
Best Director—Jordan Peele, "Get Out" (Universal Pictures)
Best First Screenplay—Emily V. Gordon and Kumail Nanjiani, "The Big Sick" (Amazon Studios)
John Cassavetes Award (For best feature made under $500,000)—"Life and Nothing More" (CFI Releasing); writer/director Antonio Méndez Esparza; producers Amadeo Hernández Bueno, lvaro Portanet Hernández and Pedro Hernández Santos
Robert Altman Award—"Mudbound" (Netflix); director Dee Rees; casting directors Billy Hopkins and Ashley Ingram; ensemble cast Jonathan Banks, Mary J. Blige, Jason Clarke, Garrett Hedlund, Jason Mitchell, Rob Morgan and Carey Mulligan
Best International Film—"A Fantastic Woman" (Chile–Sony Pictures Classics); director Sebastián Lelio