FPWA gathers prominent women leaders and local change makers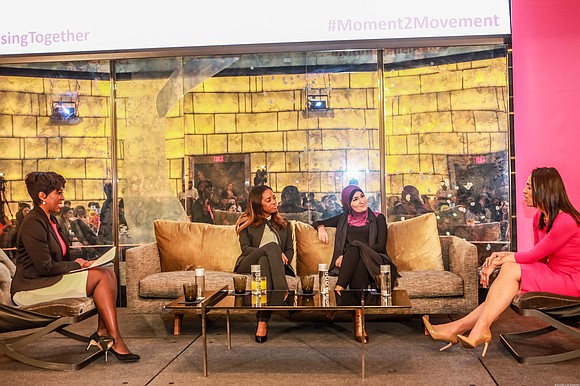 "We've built an intersectional platform that no one has ever seen," said Mallory. "The very foundation on which the Women's March particularly stands on is the fact that some of us put everything on the line for it to be as it is."
"The truth is we are uncomfortable: not everyone likes us speaking truth to power," said Sarsour. "But challenging people's internal biases is part of who we are—it's part of what we have to do to move our cause forward."
The second panel, co-facilitated by Lieberman, centered around how women, at all levels of the community, are sparking movements, and what is necessary to keep up the moment. Smith and Carr discussed the visions for their organizations as well as elevating the voices of women and girls of color.
"Thank you for recognizing Girls for Gender Equity as a local change maker," stated Smith. "At GGE, we are committed to the physical, psychological, social and economic development of girls and women, knowing that when we support cis and trans girls and women of color, alongside GNC and non-binary young people, we ultimately support the whole community. We are thrilled to accept this award and look forward to leading social justice strategies that foster the growth and fulfillment of all its members."
"We are honored to receive this award from FPWA on behalf of our work with Higher Heights," stated Carr. "It is critical that we continue to create and expand opportunities for women and communities of color to take on leadership roles in civic engagement and advance progressive public policies."
Peeler-Allen added, "Gatherings like the FPWA women's breakfast provide us with an opportunity to not only reflect on all that we've accomplished, but to collaborate and strategize on how we can continue to work together to build sustainable communities across the country and the nation."
The event was sponsored by the New York Women's Foundation.
"We are thrilled to support FPWA in their efforts to uplift the critical leadership of women working to improve the lives of women and girls in New York City and communities across the nation," said Ana Oliveira, president and CEO of the New York Women's Foundation. "Women's leadership has been central to progress in many areas and it is crucial to give proper recognition to those who continue to carry this work forward. Congratulations and thank you to the honorees, Sen. Gillibrand; the national co-chairs of the Women's March, Joanne N. Smith, Glynda C. Carr; and Kimberly Peeler-Allen who exemplify transformational leadership."
For more information, visit www.risingtogetherbreakfast.org.