Michigan Wolverines cut down Big Ten nets at Madison Square Garden
Vincent Davis | 3/8/2018, 10:34 a.m.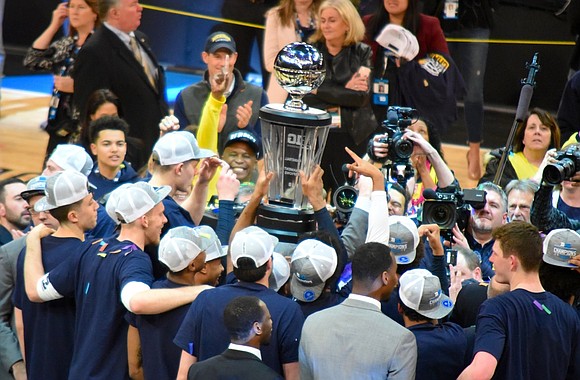 The Michigan Wolverines outlasted the field of 14 qualifiers to win the Big Ten Men's Basketball Tournament Sunday held at Madison Square Garden. In attendance were 15,063 people. It was the first of the three men's college basketball tournaments held here in New York City this month.
The Wolverines, a five seed, upset the Purdue Boilermakers, the three seed, 75-66 in a game that Michigan put out of reach midway through the second half after leading at halftime, 38-33. The lead had ballooned to 18 with 6:02 left in the game.
"I thought they did a really good job of moving the basketball, kind of finding the matchups they wanted, breaking us down off the dribble," said Purdue head coach Matt Painter about Michigan. "We were fortunate, I felt, to be down five at half."
Purdue defeated Penn State 78-70 Saturday to advance to Sunday's championship, and overtook a valiant Rutgers University 82-75 Friday. Rutgers, the lowest seeded team (14), was the only team from this area in the tournament.
Corey Sanders, Rutgers' junior guard, was voted to the Big Ten All-Tournament Team. In his team's three games, Sanders averaged 24.7 points, 3.7 rebounds and three assists.
Michigan, the defending Big Ten champions, seeded five in this tournament, began their journey by defeating 12 seed Iowa 77-71 Thursday, the only overtime game of the 13-game series. Michigan then went on to defeat the Nebraska Cornhuskers, the four seed, 77-58 the next day (Friday), a major upset, and Michigan State, the tournament's first seeded team, 75-64 Saturday.
Except for the Iowa game, the Wolverines defeated three higher seeded teams consecutively, four Michigan Wolverine wins in four days. The greatest margin? Nineteen points. Their forward, junior Moritz "Moe" Wagner, a student-athlete enrolled from Berlin, Germany, was voted Most Outstanding Player of the tournament. Wagner dropped 17 on Purdue in the chip, and 20 points, 13 rebounds against Nebraska.