What's behind door #2: The new schools chancellor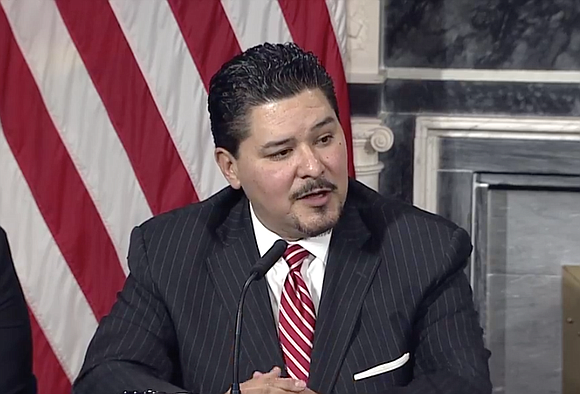 "Houston's loss is New York City's gain," said American Federation of Teachers President Randi Weingarten and Houston Federation of Teachers President Zeph Capo in a joint statement. They were praising the hire of new New York City Schools Chancellor Richard Carranza. The city may have gained a new chancellor this week, but they took a major "L" the week before.
It seemed locked and sealed at the end of February. Last Wednesday evening, the mayor sent out a statement praising his new schools chancellor appointment, Miami-Dade County Schools Superintendent Alberto Carvalho.
De Blasio called Carvalho a world-class educator and said, "I am very confident that our extensive, national search has found New York City the best person to lead the nation's largest school system into the future."
The future barely lasted 16 hours.
In an emergency board meeting, Miami-Dade board members, students, teachers and former 2 Live Crew member and Miami rap legend Luther Campbell gave testimonials to Carvalho's success and begged him to stay. He would grant them their wish.
"I underestimated the emotional tug, the level of commitment, the power that crying members of the community have had on me," said Carvalho at the meeting. "Against my personal best interest, I shall remain in Miami-Dade as your superintendent."
It's not the first time that a city courting Carvalho was met with a "no" in some form. There were once rumors of a courtship between Carvalho and the Los Angeles Unified School District. In response, the Miami-Dade school board proceeded to open up the contract he was under at the time and give him a raise to stay.
United Federation of Teachers President Michael Mulgrew sent out a statement praising the hire of Carvalho, but when asked for a response to Carvalho backing out of the job offer, all Mulgrew could say was "next."
"Next" turned out to be Carranza, the now former superintendent of Houston Independent School District. The UFT president likes this hire as well.
"Mr. Carranza has earned a reputation for collaboration with teachers, parents and school communities and has been a real champion of public schools," said Mulgrew in an emailed statement. "We are encouraged by his commitment to all children, his resistance to a 'testing culture' and his support for the community schools approach."
Carranza is set to take over for 74-year-old Carmen Fariña, who announced her retirement last December but said she'd remain in the position until the mayor found a replacement.
During a news conference announcing Carranza's hire, the mayor—eager to move on from the Carvalho fiasco—stated Carranza's bona fides.
"When he went on to Houston, he knew he was going into a very tough situation—a school district that had been historically underfunded and, I will say this gently, a state government that perhaps did not invest all it could have in education," said de Blasio. "Richard went into a tough situation with that same equity agenda for Houston, and he was just getting into the work when the worst natural disaster in the history of Houston struck with Hurricane Harvey. When you look at Richard Carranza's leadership in Houston during Hurricane Harvey, you see extraordinary strength and amazing ability to stay calm, despite the magnitude of the crisis. He is one of the people that helped get Houston back on its feet."