Rediscovering Nashville
Megan Pinckney | 3/8/2018, 2:54 p.m.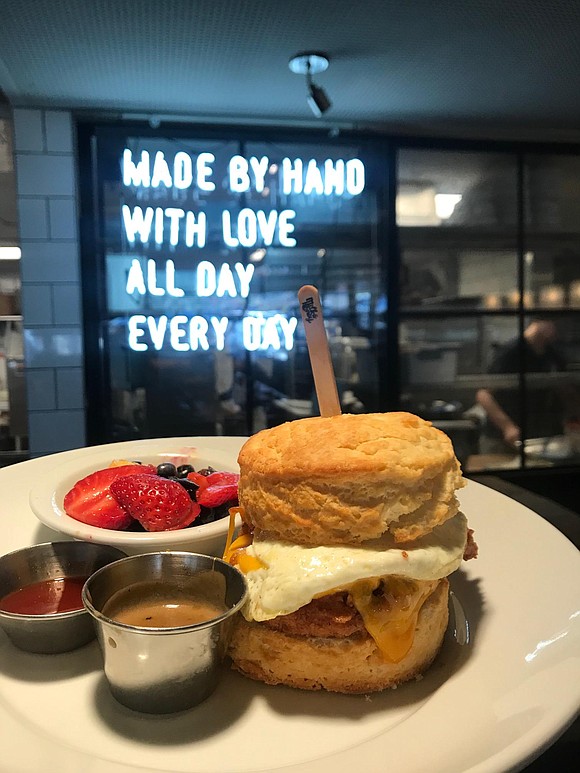 The second restaurant I have to recommend is Milk and Honey, which, coincidentally, is also located in The Gulch. We dined there for Sunday brunch and were all in agreement that we couldn't have made a better choice. The restaurant is reminiscent of a modern European bakery, thanks to its simple and clean design. Milk and Honey offers a variety of lattes and coffee, freshly brewed by their baristas, and a selection of baked goods, including cakes and macaroons. The food menu, however, was less European and more "sophisticated Southern comfort food," which we were all on board for! I had the crispy chicken biscuit and couldn't get enough of their housemade honey Sriracha sauce that they pair with several of the dishes. I enjoyed this restaurant so much that I'll definitely make a point to return the next time I'm in town.
Although the pedal tour and our dining options were highlights of the trip, the most exciting aspect was my introduction to a new hotel concept that could easily change the way the travel industry does lodging, Sobro Guest House. The idea is to drive down cost of a stay by doing away with as much personnel as humanly possible. The front desk does not exist at Sobro, so there's no receptionist or concierge. But in this time when smart phones serve as our lifelines for pretty much everything, we really don't need that staff to ensure a pleasant stay. Once your room is available for check-in—ours was ready around 3 p.m.—the guest who's phone number is connected to the reservation will receive a text message with the room number, a code to get in the front door and a code to get in the actual room. From there, it was simple getting in and out of the building. Each room is decorated a little differently, but all are contemporary and worthy of a photo. Nightly rates start at $259 a night and you can extend your stay for up to a month. The room came with the basics that most hotel rooms have, and there were courtesy phones located in the hallway to use if you needed to contact a representative of the hotel. The next morning, we simply gathered our things and departed before 11 a.m. Not long after we received another text thanking us for our stay and giving the us option to store our luggage if we needed to. Our experience was so good that I'm eager to find more options like this hotel as I plan my trips for the year. It really could be the lodging choice of the future.
Megan Pinckney (@shadesofpinck) is a retired beauty queen turned lifestyle blogger who loves exploring the world and writing about it.