Renewed protest: Parents and teachers fight against school closings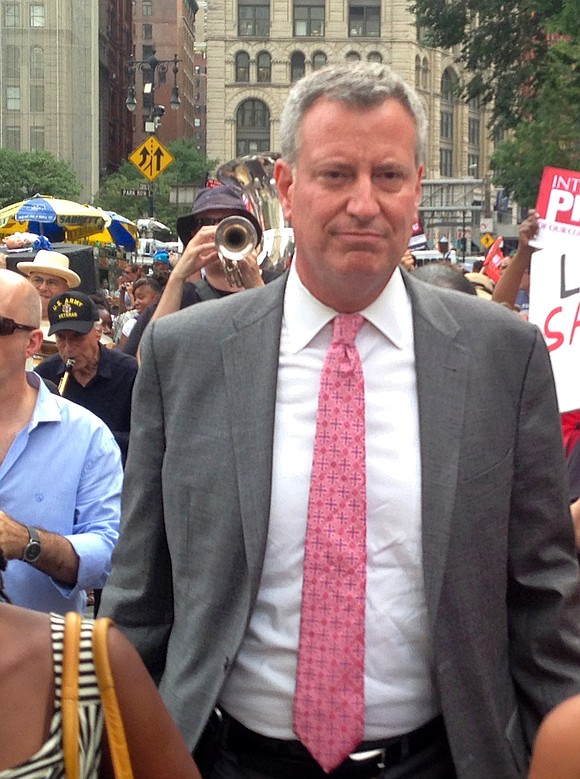 Richard Carranza officially takes over as schools chancellor in a few weeks, but he will inherit the anger parents and teachers have directed at the Department of Education. What for? The closing and/or merging of more than a dozen schools.
No matter if you are in the Bronx, Queens or Brooklyn, there were a couple of schools on the chopping block.
In December, outgoing New York City Schools Chancellor Carmen Fariña announced a proposal to close, merge or truncate a dozen schools around the city using graduation rates, college readiness, chronic absenteeism, test scores and other measurements as criteria. Last week, the Panel for Education Policy voted to close 10 schools, including Urban Science Academy in the Bronx and Coalition School for Social Change in East Harlem.
DOE officials cited leadership issues, absentee rates and academic achievement as reasons for closing the schools.
New York City Public Advocate Letitia James, in a recent letter to Fariña, said, "This administration, like its predecessor, relies too frequently on school closings as a remedy for failing schools…Rather than helping students, closures disrupt whole communities."
New York City Mayor Bill de Blasio's Renewal Schools program (started in 2014) was designed to direct extra resources, including social services and academic support, toward lower-performing schools rather than outright close them.
But a parents' association leader explained that her schools didn't see much of those resources.
"There's only two bilingual teachers teaching 103 children that are coming from other countries," MS 325 PA President Nancy Rodriguez stated. "They don't have enough books translated. The teachers have to do a lot of the translation and the children are forced to take these tests and are supposed to do well. They don't know the language, but you want them to do well."
Rodriguez also said that half of the classrooms at MS 325 are special education classes. The building containing MS 325, the Teller Educational Campus, in the Bronx, also had Junior High School 145, which closed last year. According to Rodriguez and other advocates, the community was promised a high level of support for their school, but things ended up going the other way.
"Not only did they close JHS 145, they brought in a charter school that's not even part of our community and comes from another district," said Rodriguez. "So not only did they not keep their promise, not only did they not give us resources, they are taking our space. Our children deserve better."
The charter school is Success Academy, which continues to makes inroads in public spaces. In another Success Academy story, parents, teachers and students of both the Holcombe L. Rucker School of Community Research and the Longwood Preparatory Academy rallied to protest the potential merger of their schools to make room for the expansion of yet another Success Academy school.
Once again, the city was accused of not providing the resources they said they would.
"We have not received the resources that we need," said 10th-grade student Rosby Vazquez in a statement. "For 11 years, our school has been asking for a library, auditorium, gym and an upgraded cafeteria, but all these projects were denied. And now you are allowing this charter school to come to our building."
Although some schools are fighting against their demise, others were given another shot. PEP voted against a proposal to close PS/MS 42 and MS 53 in Far Rockaway, Queens. The news pleased United Federation of Teachers President Michael Mulgrew.
"We want to thank the Panel for Educational Policy for hearing the wishes of parents, teachers, students and community leaders last night," said Mulgrew in a statement. "Their vote now gives these communities the opportunity to work with all stakeholders to ensure that both of these schools, PS/MS 42 and MS 53, are given the room, resources and attention that will be needed for their success in achieving the highest possible outcomes."
Mulgrew declined to comment on the closing of other schools.
So what's the next step?
"We're basically just trying to get our voice out there and voice how unfair they're being," said Rodriguez. "They're talking about stats and numbers and so are we to show them that they're not helping us. Hopefully, there can be some kind of