A tribute to a warrior—Dr. Sam Pinn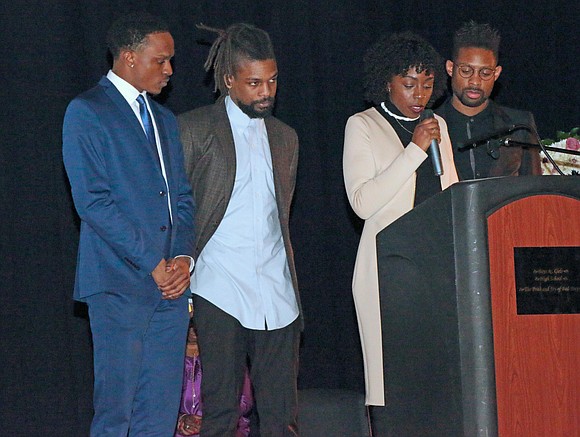 Brooklyn hosted a wonderful memorial tribute and celebration for hometown activist and teacher, Dr. Sam Pinn Jr., Saturday, Feb. 24, 2018, at Boys and Girls High School. Family, friends, colleagues, activists and musicians gathered to celebrate and honor his life and legacy.
The beloved community leader passed Dec. 27, 2017, at the age of 82. The native and lifelong Bedford-Stuyvesant resident was a committed Brooklyn organizer. He showed his love for his community as an educator, activist and social worker. Pinn was awarded two Doctor of Law degrees, one by Mary Holmes College and the other by his alma mater, Morgan State University.
Pinn loved the arts and founded Jazz 966 at the Fort Greene Senior Citizen Center, a cultural institution located on Fulton Street that continues to bring top-caliber musicians to the community. The artists include Wynton Marsalis, Randy Weston, Gloria Lynn, John Lucien, Louis Hayes and Gary Bartz among many others.
The tribute and celebration was hosted by former State Assemblywoman Annette Robinson, and in the audience was an array of politicos and other prominent people, such as Congressman Hakeem Jeffries, Assemblyman Charles Barron, Councilwoman Inez Barron, former Assemblyman/City Council Member Al Vann, Brooklyn D.A. Eric Gonzalez, the Rev. Dr. Herbert Daughtry, Public Advocate Letitia James, media icon Earl Graves, publisher Tom Watkins and Borough President Eric Adams.
As an impressive line of the Omega Psi Phi Fraternity performed their Omega Memorial Ceremony, the Asase Yaa Cultural Arts Foundation Drummers processional opened up the ceremony. The Ed Stout Trio played jazz interludes throughout the program, and magnificent vocalist Peggy Washington sang "Wind Beneath My Wings."