Could Deval Patrick be America's second Black president?
3/12/2018, 12:30 p.m.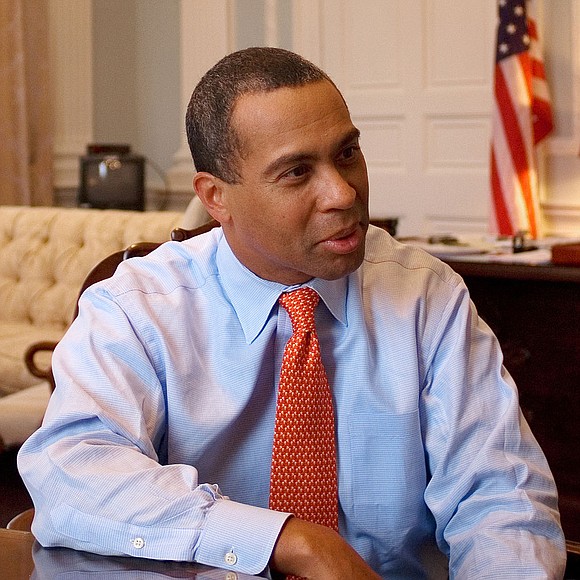 Former two-term Massachusetts Governor Deval Patrick is reportedly mulling over the idea of a 2020 presidential bid, according to reports.
Staying relatively quiet since leaving office in 2015, Patrick, the Bay State's first Black governor, has been making several appearances in political circles, including campaigning for U.S. Sen. Doug Jones in Alabama last year.
Patrick's been working as a managing director Bain Capital in Boston, where he focuses on social impact investing. David Axelrod and Valerie Jarrett have reportedly asked him to consider the run.
"It's on my radar screen, but it's a huge decision," Patrick said during a radio interview last month. "It's a huge consideration, I think, particularly when I think, you know, I'm still a kid from the south side of Chicago."
Talk about Patrick's sights on the White House dates back to 2012, when he told a reporter about it at the Democratic National Convention. He dismissed the idea, saying that he wanted to finish his term as governor and go back to the private sector.
Patrick was also a considered a possible replacement after former Attorney General Eric Holder stepped down in 2014. In 2016, he was named as a possible nominee to replace Supreme Court Justice Antonin Scalia after he died.
A vocal opponent of President Donald Trump, Patrick said that he would like to see a Democrat beat Trump in 2020. He's helping several Democrats in races in this year's midterm elections.
"I am old-fashioned in the sense that I think nobody should cheer for failure," Patrick said. "We need our presidents to succeed. I would like him to be replaced by a Democrat."
A Harvard graduate, Patrick is a native of Chicago's South Side and was a civil rights lawyer. From 1994 to 1997, he was the United States assistant attorney general for the Civil Rights Division under President Bill Clinton.