Black authors gather in Brooklyn for 14th annual National Black Writers Conference
NADINE MATTHEWS | 3/15/2018, 4:12 p.m.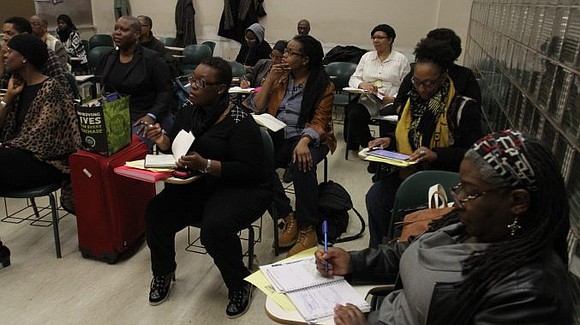 After a recent session of her Gracie Mansion Book Club, New York City's First Lady Chirlane McCray said, "Books are an escape to other worlds. Not only did I learn how other people live and think and how they navigate challenges, but I could also be someplace else when I was having trouble living in the world I was in."
No doubt this sentiment is held by many—voracious readers and casual book lovers alike. McCray also mentioned the potential of books to heal. "Books are an amazing tool to help people cope and also a way to learn how to navigate their emotions," she said. "That is why the people who sit down to notebooks, legal pads and computer screens to conjure up those worlds are so precious to us."
Black writers and other writers from underrepresented populations are especially endeared by many because they are the ones who allow the reader not only to escape to other worlds but also to see themselves depicted in the world around them in a way that other writers perhaps do not. Black writers allow readers to explore issues and situations that affect them in particular where their race intersects with their other identities.
The National Black Writers Conference will be celebrating some of these writers from March 22 through March 25. The theme of the 14th NBWC is "Gathering at the Waters: Healing, Legacy, and Activism in Black Literature."
The 14th NBWC will be held at Founders Auditorium at Medgar Evers College in Brooklyn, N. Y. Dr. Myrlie Evers-Williams will serve as the honorary chair. Award-winning writers Colson Whitehead, Kwame Dawes, David Levering Lewis and Susan L. Taylor; speculative fiction writers Steven Barnes and Tananarive Due; and cultural historian Eugene B. Redmond are the 2018 NBWC honorees. There will be a VIP Banquet and Fundraiser Saturday, March 24. Online registration is available through Saturday, March 17.
The conference kicks off Thursday, March 22, with a slate of exciting events that are free and open to the public. There will be a Youth Day Literacy Program for children from elementary through high school, featuring celebrated comic book author and illustrator Jerry Craft ("Mama's Boyz") and Calvin Anthony Ramsey, author of children's books such as "Ruth and the Green Book" and "Belle, the Last Mule at Gee's Bend." Thursday will also bring what promises to be an intriguing panel discussion, "The Influence of the Slave Narrative: African-American Literature, Past and Present," and a workshop, "Tales of Our Times/Elders Writing Workshop: "Crossing Many Waters," during which elder members of the writing community will present their travel memoirs to attendees. As an added bonus, they will recite passages of travel writing of Black women chronicling life-changing adventures in Europe, Africa, Asia and Australia.
In what has come to be one of the most highly anticipated events of the NBWC, the eighth annual Poets Cafe will be held off-site at the Brooklyn Public Library at Grand Army Plaza. In attendance will be featured poet Charan P. Morris, spotlight poet William Lohier and emerging poets Phillip J. Ammonds, Shavonne Bell, Angela Brown and DeBorah "Momma D" Gray. That evening, the critically acclaimed PBS documentary about the life of famed author and playwright Lorraine Hansberry, "Lorraine Hansberry: Sighted Eyes/Feeling Heart," by award-winning filmmaker Tracy Heather Strain, will be screened.