Dramatic details are glamorous for fall/winter '18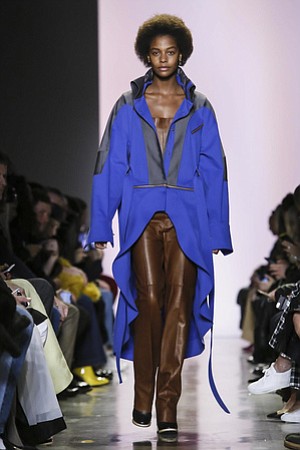 Designer Estaban Cortazar's dramatic approach to fashion raised the audience's eyebrows as his looks appeared on the runway. While watching his show, it was easy to see that his major fashion influences came from his father, Columbian painter Valentino Cortazar, and mother, Dominique Vaughn, a former British lounge singer.
After the show, he talked about how his household was filled with captivating muses, a fearless female presence, music and laughter. His fashion ensembles were often reminiscent of the elegant, evening clothes worn by the late actress Lucille Ball, a star on the "I Love Lucy" TV show in the 1950s. The look was glamorous!
Cortazar's clothes were also inspired by his grandmother's impeccable wardrobe. His mother's evocable stage outfits formed the diction of his early fashion vocabulary. During his childhood, his family straddled continents, lifestyles and subcultures. As a child, he viewed fashion as a powerful theater of self-expression. It all sparked the designer's curiosity for a fashion career, which was presented in his fabulous fall/winter '18 collection at New York Fashion Week. Whether it was his fabrics, color combinations, patterns, sleeves, collars or hemlines, the designer's distinct skill for putting it all together was extraordinary. Also, a new, yellow high-heeled boot kept the models stepping in the right fashion direction.
Cortazar's instinctive form and freedom offers lovely styles that expose some of Columbia's colors, beauty and love for constant rhythm. There are many other influences that pop up throughout the show that range from Ibiza of the '70s, where his parents were married, to the couture of Paris and Miami. In 1999, his early sketches caught the eye of Bloomingdale's fashion director, who stocked his first collection.
For fall/winter 2018, his signature styles are tempered by ease, grace and flow. A Paris-based designer, Cortazar's collection incorporates two opposing ideas: a body restricted and a body in wild, free movement. Throughout the show, there are accents of signature poet shirting, deftly cut circle hems that roam with force. Other important details include sliced leather, equestrian hardware that comprise codes for a sensual woman who is assured, bold and austere at times.
The designer's body of work shows that Cortazar's looks are progressive, effortless and wild, yet elegant. Vogue Magazine refers to him as "the most uninhibited designer showing in Paris." His collections are stocked in more 50 stores worldwide, including Barney's and Bergdorf Goodman. Good show!