What's first for the new chancellor? Everything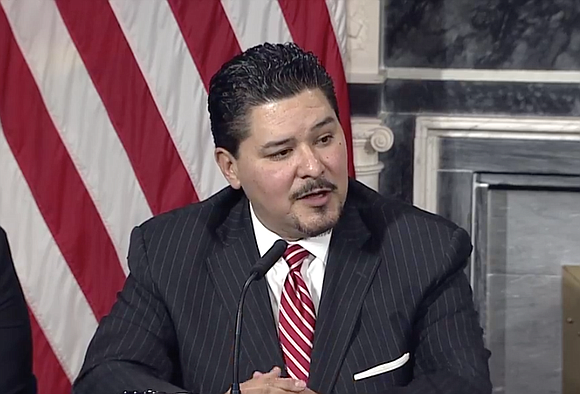 New York City Mayor Bill de Blasio had to choose which person he wanted to lead the city's schools. New Schools Chancellor Richard Carranza doesn't have a choice for what agenda to attack first.
During the introductory news conference of the former Houston school superintendent, Carranza said, "There is no daylight between Mayor de Blasio and myself, in terms of what we believe in." It might make the transition easier, but the tasks at hand could overwhelm him. He has to address the debate over space for charter schools in public school buildings, the distribution of resources to schools, diversity in the classroom when it comes to teachers and students and creating spaces for children of all backgrounds to feel safe in.
"Mayor de Blasio's pick for chancellor has demonstrated a commitment to culturally responsive education in his previous positions, including bringing ethnic studies to San Francisco and Houston, along with LGBT studies," said Charles Johnson, a parent leader for the New York City Coalition for Educational Justice, in a statement. "Mayor de Blasio must give Carranza the power, budget and staff to make NYC a national leader in culturally responsive education. I want to let the mayor know that parents are not going anywhere, we will not give up on this issue, we will push and push and push until Culturally Responsive Education becomes the cornerstone of your education agenda."
Johnson is one of the many educational activists who have announced their desire to continue pushing City Hall to meet not only their kids' needs, but the community's needs as a whole.
Carranza is leaving Houston after one year just as his agenda was being implemented into the schools and the state was threatening to take over the school board. In 2015, while running the San Francisco Unified Schools District, he was involved in a gender discrimination lawsuit that was settled out of court. Carranza was accused of retaliating against a district employee who confronted him about flirting with a woman at a work conference. A representative for de Blasio told the website Chalkbeat that the allegations were "completely false" and didn't affect the hiring process.
Carranza, the grandson of Mexican immigrants, spoke only Spanish when he started school. He taught bilingual social studies and music and rose in the ranks of the educational bureaucracy, taking him from Tucson, Ariz., to Las Vegas to San Francisco and to Houston. Carranza understands the importance of children seeing elements of their own culture in schools. One elected official hopes the new chancellor takes it even further.
"We are calling for is common sense programming and resources to support the over 1.1 million students taught in the more than 1,700 schools across our city," said New York City Council Member Antonio Reynoso in a statement standing with educational activists in their fight for diversity. "We know how valuable a curriculum that explores multiple experiences and histories is for our student population. We know the potential for academic achievement when students are engaged in content that's not repetitive, in the same way that the Western perspective is taught year after year."