Talking SCHOP! A Virginia rendezvous
Kysha Harris, Food Editor, @SCHOPgirl | 3/15/2018, 4:51 p.m.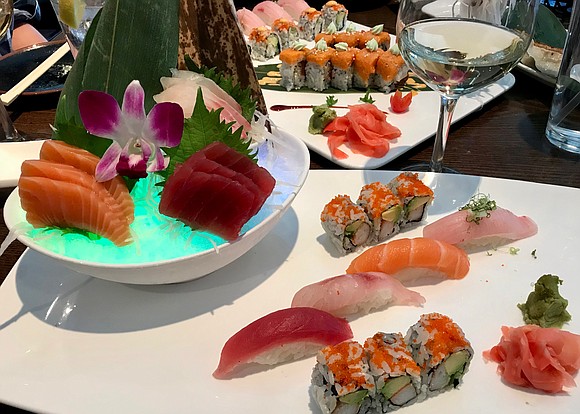 Thank heavens for all modes of transportation to ports unknown—and known. I hoped on a bus straight to D.C., where my cousin Quinn scooped me up and into her arms for a quick respite and always some delicious (and on plan) food.
Our first stop was dinner at PassionFish in Reston, Va. (@PassionFishRest, 11960 Democracy Dr., 703-230-3474, www.passionfishreston.com). The interior reminded me of a cruise ship, inclusive of the grand sweeping stairs. The open kitchen was buzzing and the raw bar was plentiful.
We began our seafood feast with a dozen raw oysters with the best mignonette I have ever had. Then there was the lump crab cocktail with a little aioli and lemon that sent my eyes to the back of my head. Fresh and local does not get any better.
Our main feast included a whole crispy flounder with spicy tamarind chili nam pla and pickled cucumber salad, blackened grilled local white fish and sides of haricot vert, Brussel sprouts with nam pla sauce and jasmine rice with Thai red curry gravy. With a dirty martini in tow, my cares were quickly melting away.
Our mission for seafood continued the next day after a well-deserved mani-pedi. This time it would be Passion Fin (no relation) in Ashburn, Va. (42780 Creek View Plaza, 703-858-1118, www.passionfinashburn.com). Quinn and her man Bob, serious sushi lovers (read: sushi snobs), did all of the research and determined that Passion Fin is the best in the area. They have been there so often the owner knows them by name. They were not wrong.
We started with edamame and yellowtail serrano in ponzu sauce, which whet the appetize for more. The tako su of thinly sliced octopus, cucumber and lemon in ponzu sauce was a symphony of texture and taste—perfect with their sauvignon blanc by the glass.
Then our platters of sushi and sashimi came out with great joy. The fish was so fresh, cut well and just awesome. Quinn forgot to hip me to the jive about asking for fresh crab in my California roll. Thank goodness she got one. With a hint of Old Bay, I knew it was official.
Now I am back in the saddle and feeling good. Thank you, Quinn and Bob, for welcoming me into your home and for the continued love. Until next time.
Happy eating and thanks for reading!
Kysha Harris is a food writer and editor, culinary producer, consultant and owner of SCHOP!, a personalized food service in NYC for more than 15 years. Follow her on Twitter and Instagram, @SCHOPgirl, on Facebook, /SCHOPnyc, and her blog, www.talkingSCHOP.wordpress.com. Questions? Comments? Requests? Feedback?  Invitations!  email AmNewsFOOD at AmNewsFOOD@SCHOPnyc.com. Follow us on Instagram, Twitter and Facebook @NYAmNewsFOOD and tag us with #SoAmNewsFOOD with your food finds!