Candidate and the city: Cynthia Nixon speaks one-on-one with the AmNews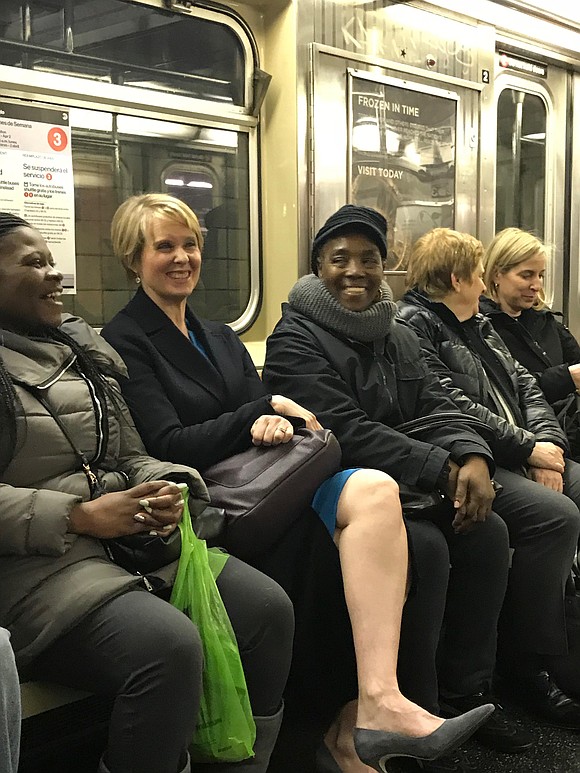 "If you call yourself a Democrat, but you slash taxes on corporations and defund our subways and you won't help out with public housing and schools, I don't think you want to be in the Democratic Party," Nixon said. "We really want a progressive agenda. We want it now more than ever before. We need it from our leaders. The lack of progressive policies has really impacted a lot of people … especially people of color."
Education, housing and fixing the subways are points of emphasis in the early stages of Nixon's campaign. She said, "I don't know the last time Cuomo was on the subway that wasn't a photo op. Maybe he has no idea how bad it is."
Nixon, a supporter of de Blasio, believes that Albany has the power to invest more in the subways, public housing and infrastructure overall.
"Cuomo likes to put money to things he can stand next to and get a good photo," said Nixon. "But [the governor needs] to invest in the stuff you can't see. We need to replace the signals [on the subways]. It's the stuff that's tripled our delays. We've invested an enormous amount in infrastructure and if we don't maintain them, they're gonna crumble before our eyes."
But New York City isn't New York State. There's an entire swath of land and people that Nixon needs to cover, travel through and meet with. Nixon said she understands the task at hand and believes that those outside of the city have been hit with poverty in a unique way not understood by those in the five boroughs.
"We've got more than 50 percent of our kids in upstate cities living below the poverty line," Nixon said. "We are feeling the lack of investment [in the city]. I think they're feeling it even more. If we took back those billions of dollars in development money given to corporations and did it in a way where there was more government oversight and the community had input, we'd be in much better shape in terms of job creation."
The media attributed much of President Donald Trump's victory in 2016 to the working class feeling shut out of the American dream. With the loss of factory work and other traditionally blue-collar jobs, Trump provided them with a reason, sources, targets and justifications for their anger and frustration. In the mainstream, the working class skews white. Nixon told the AmNews that the government has to look elsewhere.
"The days of those middle class jobs … that's not what working class jobs are nowadays," said Nixon "Working class jobs are human service jobs and most of the jobs are filled by women and people of color. We've devalued those jobs. Those are jobs that don't require us to build a factory. It requires a government to be proactive. Spend on expanding day care, programs that help kids stay in school, that stop the school to prison pipelines. Do interventions with people who really need it."