Dr. Brenda Greene talks about the upcoming National Black Writers Conference
NADINE MATTHEWS | 3/22/2018, 5:11 p.m.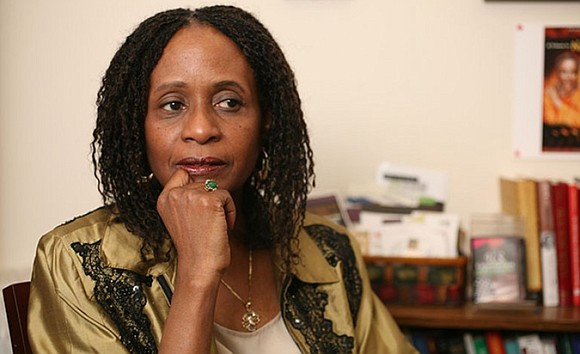 Without Talib Kweli, there probably wouldn't be the National Black Writers Conference as we know it. Rap musician, entrepreneur and activist Kweli is the son of Dr. Brenda Greene, who heads Medgar Evers College's Center for Black Literacy. She explained, "My son Talib Kweli, who is a hip-hop artist, and [music partner] Mos Def used the proceeds from their first album to purchase Nkiru Books, which was the oldest independent Black book store in Brooklyn." Greene ran the bookstore for the duo when they went out on tour and found that it was a springboard not just for selling books but for creating spaces that further fostered literacy and awareness of Black writers. Greene elaborated that in the late '90s, "I took a one-year sabbatical from teaching college and managed the bookstore. I met a lot of Black writers and learned a lot about book selling. I then restructured it as a not-for-profit educational and cultural center."
The idea for the National Black Writers Conference had already taken root. Green's colleague, the legendary writer and educator John Killens, was the writer in residence at Medgar Evers College in 1986. "He desired to host a national Black writers conference every year," Greene shared, "and as writer in residence wanted to host it at Medgar Evers College. He believed in bringing Black writers together to look at the state of Black literature."
The conference had first been held in 1986, and then sporadically through the rest of the '80s and throughout the '90s. In the early aughts when the director of the conference stepped down, Greene took over. Greene, tasked with the responsibility of coordinating the conference, felt she had was the perfect opportunity to use the format she created during her time at the bookstore to do something even bigger. She explained, "When I went back to work I took a lot of the concepts that were part of Nkiru, the readings, the book signings, and used that to come together and form the Center for Black Literature. The founding of the Center for Black Literature became a space to host the National Black Writers Conference on a more consistent basis."
Greene emphasized, "I want people to think about the National Black Writers Conference as a public gathering. It's a public gathering where we bring together people from the general public, literary professionals, students, writers. We bring everyone together to really engage and dialogue. It's not a typical academic conference and I don't want it to be thought of as that."
This year, the conference's 14th year, the theme centers around healing, legacy and activism. Greene stated, "There's a need to talk about how we keep ourselves safe and there's a need to remember those whose shoulders we stand on to pay tribute to those who were part of the civil rights legacy and the Black Arts movement and the Black Power movement and the hip-hop movement. We stand on the shoulders of many."
This year's award honorees will include Susan Taylor, former editor-in-chief of Essence magazine; Pulitzer Prize-winning authors Colson Whitehead and David Levering Lewis; American Book Award winner Tananarive Due; and Sterling Brown Award-winning poet Eugene B. Redmond. Another award-winning poet, Sonia Sanchez, will be at the screening of the documentary about her life, "BaddDDD Sonia Sanchez," and will be a panelist for the discussion "The Black Arts Movement: A Foundation for a Literature of Resistance
and Activism"
It is said that without vision, the people perish. Greene, who hosts her own weekly radio show for writers Sunday evenings on WNYE and is currently working on creating and implementing the first degree offered by CUNY for African Diasporic literature, also has plans for the National Black Writers Conference itself. "What we envision is having satellite conferences and having programs that expand the concept of what we're doing at different schools and organizations across the country. We're looking at Howard University; we're looking at Spelman. We're looking at other institutions that could be a platform that also brings together Black writers."
Greene strongly believes that intercultural collaboration and exchange is vital. She stated, "We also want to partner with mainstream organizations because this conversation should not just be Black writers talking to themselves. Ironically, we had planned to go to Charlottesville and then there was the big demonstration there and the killing but we need to expand the conversation so that Black writers are not perceived as only writing about race."
The 14th National Black Writers Conference will be held March 22 through March 25 at Medgar Evers College in Brooklyn, N.Y.