Fashion Week in the Deep South: Lexus Charleston Fashion Week
MEGAN PINCKNEY | 3/22/2018, 4:38 p.m.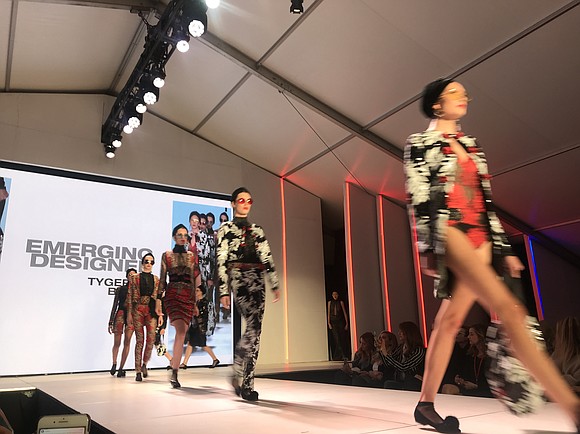 Let's face it, there's only one fashion capital of the Americas and that's right here in New York City. The world looks to us for trends in design, fabrics and even manufacturing. So, it's no surprise when this city dedicates an entire week to fashion (twice a year—even more if you count men's and bridal weeks), the entire world watches and takes note. And that's because no other city in the Western Hemisphere garners the same amount of respect as other major fashion capitals, such as Paris
and Milan.
But what if another U.S. city wanted its own fashion week? Could it also be successful? Yes! And for proof you wouldn't have to look any further than Charleston, S.C. Having just wrapped their 11th season last week, Charleston Fashion Week has become one of the premier fashion events in the region. But, how did a small town that couldn't be more opposite from The Big Apple develop such a successful event? Easy, they mimicked the structure of New York Fashion Week, but changed the concept and, honestly, the entire reason
for having it.
Seven years ago, the team behind CFW enlisted Fern Mallis for help. There was no one more qualified than Mallis, the creator of NYFW and a former executive director for the Council of Fashion Designers of America, to help develop CFW into what it is today.
CFW is first and foremost a public event. Any and everyone are welcome and encouraged to purchase tickets for each night, unlike NYFW. This openness encourages an influx of fashion conscience bloggers and fans from all over the region to be a part of the five-night event. More importantly, however, CFW's primary missions are to showcase emerging designer and model talent from across the country, while serving as a "pathway to New York," and to raise brand awareness and media impressions for all participants. By the end of the week, one fashion designer, accessory designer, male model and female model will walk away as winners.
When asked about the differences between NYFW and CFW, Mallis' assistant, Elliot Carlyle, said, "New York is a market week. It was created for the business of the industry: the press, buyers and stylists to see the new trends before everyone else does. Charleston is different, because while they want to give those emerging designers that are not able to show at NYFW, quite yet, the same experience and quality with professional hair/makeup, production and photography. … There's, of course, the fun and the social aspect. It's a big party and a love fest."
A five-day party is a great way to describe CFW. But before you turn your nose up to the idea, remember the digital shopping age that we are living in. Remember how difficult it is for brick-and-motor stores across the country not only to get people in the store but also to purchase. Stores have to get creative if they want to stay alive. They have to entice consumers in new ways like they've never had to before. They have to get their product in front of consumers in new ways if they want to make sales. So, for five nights straight, that's what happens throughout a series of luxury tents, known as "Fashion Village," on Marion Square in Downtown Charleston.
There, locally owned boutiques get their name and merchandise in front of their target market: fashion conscience locals and tourists. Guests are treated to a unique shopping experience in the "Style Lounge," which is filled with pop-up shops (both from retailers that showed on the runway and from some that did not), opportunities for mini-makeovers and photo booths, along with a DJ and a full bar! Across the village, in the luxurious Gwynn's of Mt. Pleasant VIP Tent was the best party of every night and your best opportunity to network the event. The tent was filled with the city's entrepreneurs, socialites, doctors and even reality television stars, along with out-of-town guests and whoever else paid extra for access—basically, the people retailers and emerging designers would want their pieces in front of.
There's no question that this event increases economic development for the region's fashion, design and retail communities, but it is also another excuse to visit Charleston, a city whose tourism market has taken off within the past decade. This event's impact on the local hospitality tax has to be great. To inject more money into the local economy, CFW partners with a different local establishment to host after parties and out-of-town guests for the duration of their stay.
This year's after parties took place within walking distance of Marion Square at Carolina Ale House, Prohibition, Trio and Mynt. And CFW recommended local hotels Embassy Suites Historic District, Francis Marion Hotel, Hotel Bennett, Renaissance Charleston Historic District Hotel and The Restoration to their out-of-town guests for lodging.
This year's CFW concluded with an African-American woman becoming the 2018 Emerging Designer Grand Prize Winner. Tygerian Burke of TygerianLace from Charlotte, N.C., walked away with a prize package worth more than $40,000. It included $10,000 in cash, a once-in-a-lifetime lunch with Mallis in New York City, mentorship with L2 Apparel and Lilia P. CEO Pauline Sokol Nakios, a featured designer event or show at Charleston Fashion Week 2019 and a $10,000 website or search engine marketing package from F22 Internet Solutions.
"Winning Charleston Fashion Week was a pivotal moment for TygerianLace," said Burke. "The relationships cultivated, knowledge gained and opportunities on the horizon are due to capturing the title of 2018 CFW Emerging Designer. I can't wait to hit the ground running."
Megan Pinckney (@shadesofpinck) is a retired beauty queen turned lifestyle blogger who loves exploring the world and writing about it.