Fashion Week in the Deep South: Lexus Charleston Fashion Week
MEGAN PINCKNEY | 3/22/2018, 4:38 p.m.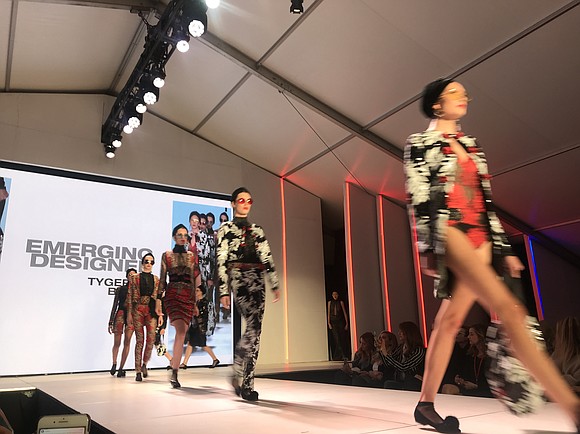 There, locally owned boutiques get their name and merchandise in front of their target market: fashion conscience locals and tourists. Guests are treated to a unique shopping experience in the "Style Lounge," which is filled with pop-up shops (both from retailers that showed on the runway and from some that did not), opportunities for mini-makeovers and photo booths, along with a DJ and a full bar! Across the village, in the luxurious Gwynn's of Mt. Pleasant VIP Tent was the best party of every night and your best opportunity to network the event. The tent was filled with the city's entrepreneurs, socialites, doctors and even reality television stars, along with out-of-town guests and whoever else paid extra for access—basically, the people retailers and emerging designers would want their pieces in front of.
There's no question that this event increases economic development for the region's fashion, design and retail communities, but it is also another excuse to visit Charleston, a city whose tourism market has taken off within the past decade. This event's impact on the local hospitality tax has to be great. To inject more money into the local economy, CFW partners with a different local establishment to host after parties and out-of-town guests for the duration of their stay.
This year's after parties took place within walking distance of Marion Square at Carolina Ale House, Prohibition, Trio and Mynt. And CFW recommended local hotels Embassy Suites Historic District, Francis Marion Hotel, Hotel Bennett, Renaissance Charleston Historic District Hotel and The Restoration to their out-of-town guests for lodging.
This year's CFW concluded with an African-American woman becoming the 2018 Emerging Designer Grand Prize Winner. Tygerian Burke of TygerianLace from Charlotte, N.C., walked away with a prize package worth more than $40,000. It included $10,000 in cash, a once-in-a-lifetime lunch with Mallis in New York City, mentorship with L2 Apparel and Lilia P. CEO Pauline Sokol Nakios, a featured designer event or show at Charleston Fashion Week 2019 and a $10,000 website or search engine marketing package from F22 Internet Solutions.
"Winning Charleston Fashion Week was a pivotal moment for TygerianLace," said Burke. "The relationships cultivated, knowledge gained and opportunities on the horizon are due to capturing the title of 2018 CFW Emerging Designer. I can't wait to hit the ground running."
Megan Pinckney (@shadesofpinck) is a retired beauty queen turned lifestyle blogger who loves exploring the world and writing about it.