With Hornacek's future in doubt, the Knicks stick to their objective
Jaime Harris | 3/22/2018, 11:39 a.m.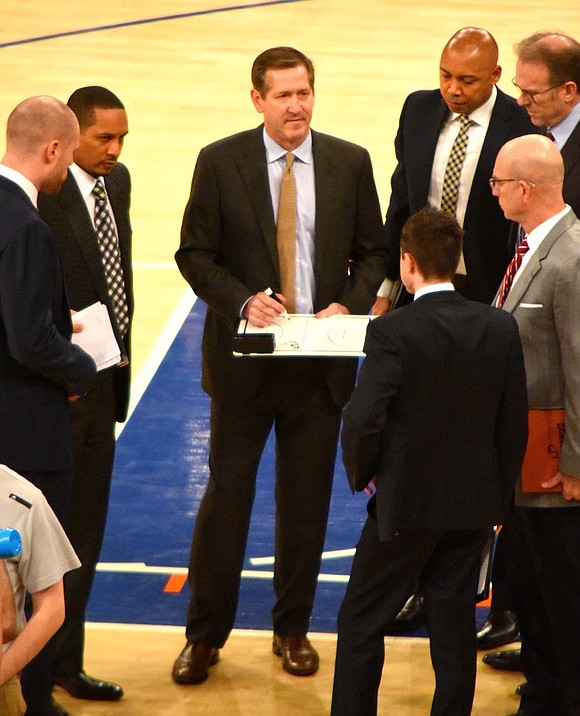 As reports—likely leaks from within the organization—unsurprisingly begin to surface that the Knicks will cut ties with head coach Jeff Hornacek sometime after the season ends in April, Hornacek and his assistants continue to move forward with the franchise's stated primary short-term objective of developing its young players as future building blocks of the team or serviceable trade assets.
"We've been able to get the young guys in a little bit of a rhythm," said Hornacek after the Knicks' 110-92 victory against the Chicago Bulls at Madison Square Garden Monday night, their second straight win after losing nine in a row.
"Playing a few more minutes, they're feeling more comfortable getting out there not pressing too hard and trying to make something happen," Hornacek maintained. "Just letting the game kind of come to them … We're still trying to emphasize that everything's meaningful. Even these games. [We] might not be in the playoffs, but you're still trying to win games."
The Knicks were 26-45 when they faced the Miami Heat on the road last night (Wednesday) before hosting the Minnesota Timberwolves at the Garden tomorrow night. The 54-year-old former Phoenix Suns head coach has one more year remaining on a three-year, $15-million deal he signed with the Knicks in 2016. It's understandable if Knicks president Steve Mills and general manager Scott Perry want to bring on a coach of their choosing. Hornacek was the previous team president Phil Jackson's hire.
However, Hornacek's potential departure should not be viewed as a byproduct of the Knicks fifth straight season missing the playoffs. Red Auerbach, Jackson, Pat Riley or any of the NBA's all-time great coaches would have been hard-pressed to squeeze much more out of this current group than Hornacek.
He's a capable coach who is leading a collective of young, inexperienced players and veterans who are either on the downside or stagnantly inconsistent. His best player, Kristaps Porzingis, another young, still-developing talent, has been out since Feb. 6 after tearing the ACL in his left knee at Madison Square Garden after dunking over the Milwaukee Bucks' Giannis Antetokounmpo.
Changing coaches won't have much efficacy in improving results. That has been the Knicks' pattern for well over two decades, with few playoff appearances to speak of. The NBA is a players' league, plain and simple. The Knicks will reverse course and become a contender only when they have a roster replete with good, versatile, two-way role players to compliment the requisite minimum perennial two all-stars.