NYCHA tenant leaders asks: Where's the money?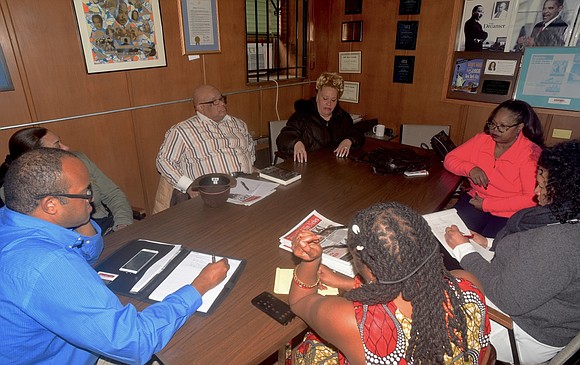 As Gov. Andrew Cuomo makes major announcements that he is proposing $550 million in funding for the New York City Housing Authority in the state budget, tenants continue to suffer.
Hearing from folks who are battling with issues in NYCHA, the AmNews sat down this week with a group of tenant leaders from across the city. The leaders gave an inside view of the day-to-day problems public housing residents are facing as politicians continue to promise funding and fixes.
Carmen Quinones, Tenants Association president of Frederick Douglass Houses in Manhattan; Ronald Topping, Tenants Association president of John Adams Houses in the Bronx; and Lilithe Lozano, executive treasurer of the City Council of Presidents and Bronx North District chair, presented myriad issues in NYCHA that remain unresolved.
While headlines continue to cover mold, broken heaters and the lead paint crisis, the three leaders expressed frustration over a lack of funding by NYCHA and the U.S Department of Housing and Urban Development that lawfully belongs to public housing residents.
NYCHA'S HOPE: AMNEWS TALKS TO SHOLA OLATOYE
Over the weekend, Cuomo announced he's tacking on an additional $250 million in proposed investment for inclusion in the state budget to support public housing. This amount is on top of the $300 million he's proposing after last week's visit to a public housing development in the Bronx, where he saw unfavorable conditions.
"At one time, NYCHA was the model of public housing, and now conditions are at the worst they've ever been. Tenants living in these intolerable, inhumane conditions need help now—not in four years, and this administration is taking action to ensure a brighter future for New Yorkers," Cuomo said during a speech at Taft Houses Saturday in East Harlem.
Tenant leaders were far from impressed with the governor's promise, which they say barely scratches the surface.
"It's very appreciated, but it's a drop in the bucket," Quinones said. "We go back to the city again and again and the city has to do much better. The problems in NYCHA are bad. The first thing we need to get is administration changed from the top down."
Quinones' frustration stems from what she alleges is mismanagement of funds by NYCHA. In 2014 when she became president of Douglass Houses, she received a budget letter which had $229,000. Quinones says the money was never touched, but when when she received the 2017 budget, only $89,000 was left. She alleges money was taken out and wants to know what happened.
Although she went to all avenues to find an answer as to where the money went, city officials and NYCHA haven't given her an answer.
"They still haven't told me where the money is," she said. "They want us to sign an agreement, and I refuse to sign it when I don't know where the money is."
Tenant leaders also highlighted reduced money for the Tenant Participation Activity Fund provided by NYCHA through HUD for programming. Each development is supposed to receive $25 per resident as stipulated in NYCHA's TPA guidebook per Part 964; however, leaders reported only getting $8 to $10 per resident.