Tribute to Edith Head, grand dame of Hollywood costume design
LAPACAZO SANDOVAL and ART SHRIAN | 3/22/2018, 4:55 p.m.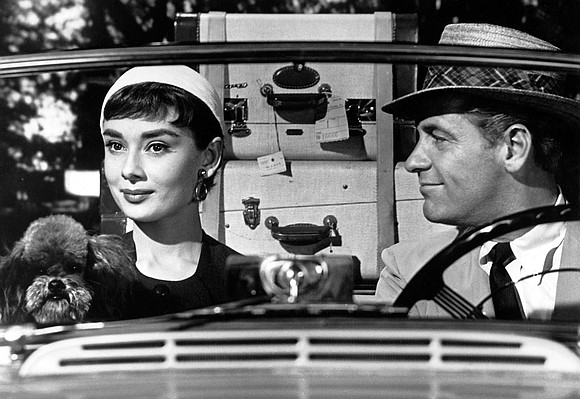 The role of a costume designer is complicated and yet it's easy. They simply help set the tone of the entire film. They simply help establish the characters. They simply help audiences connect to the stories being told. They simply are the glue that holds every film—good, bad and tepid—together.
One of the masters in the costume design word is the legendary Edith Head, often called "Hollywood's Grande Dame," with a resume so extensive it's hard to imagine a classic Hollywood movie without her signature style. Friday, March 23, starting at 7 p.m., the Academy of Motion Picture Arts and Sciences and Metrograph will present two special screenings of Billy Wilder's sparkling romantic comedy, "Sabrina" (1954), one of Head's very highest achievements. In this iconic film, the great Audrey Hepburn plays the title role, a chauffeur's daughter who is torn between Humphrey Bogart and William Holden, the sons of her father's vastly wealthy employer. It's a known love affair of great talents—Head and Hepburn, imagining the character's transformation, worked together on sketching dress designs, with breathtaking results.
This tribute to Head is preceded by The Costume Designer, part of The Industry Film Project, a 12-part series produced by the film studios and the Academy and underwritten by the Producers Association. Each episode was produced to inform the public on a specific facet of the motion picture industry. The Academy is actively working to preserve the complete series. The Costume Designer features Head and was preserved by the Academy Film Archive.
Many industry insiders are already predicting that two-time Oscar nominee Ruth E. Carter, the costume designer responsible for Wakanda's wardrobe in the mega-successful "Black Panther," will be acknowledged in 2019 across the board for her stunning work in the runaway hit. Perhaps yes, perhaps no. But Carter is one of those "simply masterful" members of the costume designer world.
For many people outside of the film industry, The Academy of Motion Picture Arts and Sciences equals the Academy Awards, but in actuality, the Academy is a global community of more than 8,000 of the most accomplished artists, filmmakers and executives working in film. As mentioned, in addition to celebrating and recognizing excellence in filmmaking through the Oscars, the Academy supports a wide range of initiatives to promote the art and science of the movies, including public programming, educational outreach and the upcoming Academy Museum of Motion Pictures, which is under construction in Los Angeles.