Underdogs make their mark in NCAA Tournament
Jaime Harris | 3/22/2018, 12:10 p.m.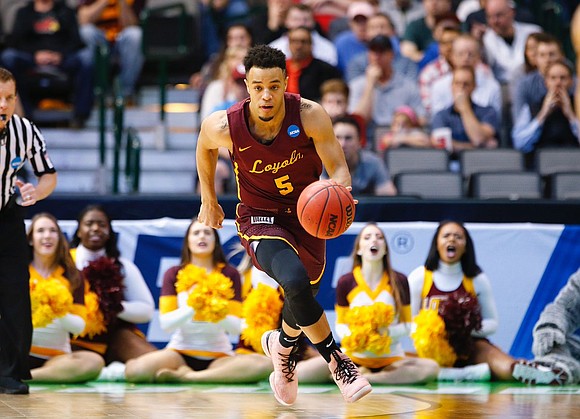 One by one, some of college basketball's perennial powerhouses were picked off in the opening rounds of the NCAA Division I Men's Basketball Tournament. The most shocking and endearing upset was in the South Region. The No. 16 seed University of Maryland-Baltimore County Retrievers of the mid-major America East Conference defeated—make that dominated—the Virginia Cavaliers, the region's No. 1 seed and overall top ranked in college basketball, by 74-54 to become the first No. 16 seed to beat a No. 1 in the history of the tournament.
Before UMBC's improbable win last Friday in Charlotte, N.C., 135 tried and failed. They were a 20-point underdog entering the game. "I don't think there was any point in the game that we thought we couldn't play with them," said the Retrievers' Jairus Lyles, who scored a game-high 28 points. "We knew we could play with them before the game. Tying up with them at halftime definitely gave us more confidence."
The belief engendered in smaller schools has its roots in summer basketball. With the proliferation of AAU teams and tournaments, many of the high school student-athletes who move on to small and mid-major college programs either play with or against the nation's top high school players that ultimately end up at Duke, Kentucky, Arizona, Kansas and other elite programs.
So the Davids have little fear when facing the Goliaths as UMBC proved; they met up for several years on the AAU circuit. Despite losing to Kansas State 60-53 in the Round of 32, the Retrievers left an indelible mark on their program and March Madness.
Another low seed in the South Region, the No. 11 Loyola University of Chicago Rolling Ramblers, have crashed the party by willing their way into the Sweet 16 with dramatic razor-thin wins over No. 6 Miami (64-62), and then No. 3 Tennessee (63-62). They will face another disrupter, No. 7 seed Nevada, tonight (Thursday, 7 p.m.) to advance to the Elite Eight.