Dance Calendar April 2018
CHARMAINE PATRICIA WARREN | 3/29/2018, 4:29 p.m.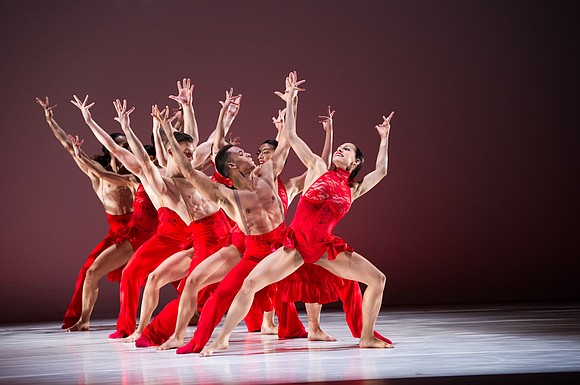 Two ballet companies will again share their season of dance: Ballet Hispánico (April 10-April 15) at the Joyce Theater and Dance Theatre of Harlem (April 4-April7) at New York City Center.
Called the nation's premier Latino dance organization, Ballet Hispánico returns to the Joyce Theater with a program inspired by Spanish literary icon Federico Garcia Lorca. Choreographer Gustavo Ramírez Sansano's yet-to-be-named world premiere will delve "into the life of the celebrated playwright during his time in New York City in 1929," and Carlos Pons Guerra will "reimagine Lorca's 1936 play, 'The House of Bernanda Alba,' infusing the tale of family intrigue with the theatricality of Spanish language films and telenovelas," notes the release. Also on the program is Annabelle Lopez Ochoa's 2016 work, "Línea Recta." For more information, visit www.joyce.org.
In four performances only, Dance Theatre of Harlem's season will offer a mixed bill, including the company premieres of George Balanchine's "Valse-Fantaisie" (1953) and Christopher Wheeldon's "This Bitter Earth" (2012). Also on the program is the company revival of Geoffrey Holder's classic, "Dougla" (1974), which will include live music and dancers from Collage Dance Collective, plus Marius Petipa's "Le Corsaire Pas de Deux" (1856). The company rounds out the program with the New York premiere of contemporary choreographer Darrell Grand Moultrie's "Harlem on My Mind." The 2018 season opens April 4, the 50th anniversary of the assassination of Dr. Martin Luther King Jr., with the annual Vision Gala. This year's honorees are dance legend Carmen de Lavallade and civil rights icon Xernona Clayton. Works by resident choreographer Robert Garland and Dianne McIntyre ("Change") are slated for the April 4 event. For more information, visit www.nycitycenter.org.
STILL RUNNING
March 29-March 31—Philly choreographer/performer Annie Wilson returns to JACK with "At Home with the Humorless Bastard," "an exploration of personal and collective grief that shifts the audience's perspective by bringing them onstage and casting them in the dance," notes the release. For more information,
visit www.jackny.org.
March 29—For one-night-only, Polly Ferman's "GlamourTango" comes to Aaron Davis Hall as City College Center for the Arts in "A Celebration of Women in Tango." For more information, visit www.citycollegecenterforthearts.org.
ALSO THIS MONTH
April 2-April 23—The free, ongoing Movement Research at the Judson Church performances will feature Maira Duarte/Dance to the People, Paty Solórzano and Sônia Lopes Soares (April 2); Maleek Washington, Kyungmi Kim and Kayla Farrish/Decent Structures Arts (April 9); Javier Padilla's The Movement Playground, Nicky Paraiso, Katie Workum and Andrea Haenggi (April 16); and Maho Ogawa, Juila Gladstone, The Olimpias and Lisa Parra (April 23). For more information,
visit www.movementresearch.org.
April 4—Harlem Stage hosts "Ascension: A Lifting of Dr. Martin Luther King's Legacy on the 50th Anniversary of His Assassination," featuring dances by Kyle Marshall and others. For more information visit www.harlemstage.org.
April 6-April 7—Miro Magloire and his New Chamber Ballet returns to City Center Studio 5 and will pay homage to the composer Claude Debussy on this 100th anniversary with a world premiere by resident choreographer Constantine Baecher. Also on the program is Magloire's "Two Friends," plus other works by Magloire. For more information, visit www.newchamberballet.com.