Dance Theatre of Harlem spring season sizzles
Zita Allen | 3/29/2018, 4:15 p.m.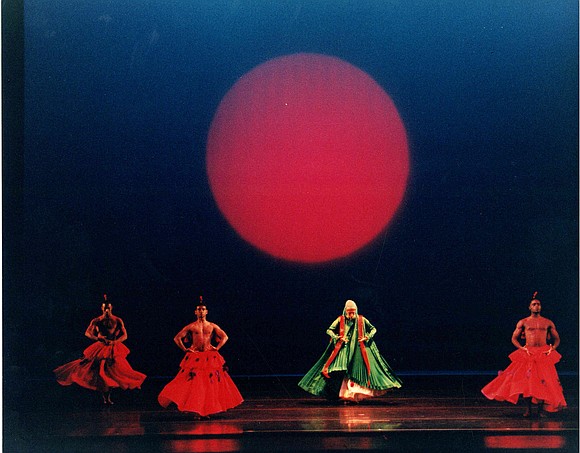 African drummers fill the air with compelling Caribbean rhythms. Dancers, male and female, appear dressed in floor-length skirts festooned with red balls accenting every movement of their swiveling hips. On the beat, dancers thrust one arm forward wagging an index finger as if to say, "You can't touch this!" In an instant, we are mesmerized by the rhythmic, color-infused spectacle that is Geoffrey Holder's masterful "Dougla" created for Dance Theatre of Harlem back in 1974 and now scheduled to be presented during the company's upcoming City Center Season April 4 to April 7.
It's been several years since DTH performed "Dougla," and because Holder died some years back, remounting this dynamic ballet involved a process best described as a family affair.
"'Dougla' is genuinely a magnificent work," said DTH Artistic Director Virginia Johnson. "And, it's an immensely popular work, so everywhere we go on our extensive touring schedule we get requests for it."
Because it was created when the DTH Company was a bit larger than it is today, Johnson said it was necessary to figure out how the company could perform "Dougla" in its current configuration. "It's something I personally wanted to bring back," she said, noting that the work truly satisfies a sense of spectacle and magnificence and it does so in such a simple way. "Geoffrey's costumes are gorgeous and there's a scenic element, with lighting, that creates such a unique atmosphere, so clearly 'Dougla' was something we could manage. Also, I certainly enjoyed dancing it all those years."
And audiences enjoyed watching what one Ballet Review critic described as "an onslaught of striding, stomping footwork; gyrating, thrusting and bumping hip work; wagging index fingers and nodding heads," calling it "breathtakingly beautiful."
Learning what went into this process makes it obvious that it takes a village to reconstruct such a magnificent ballet. Holder's wife, Carmen de Lavallade, and son, Leo, came to rehearsals and shared memories and insights with dancers who missed the opportunity to work with the creative genius and artistic Renaissance man. Leo, tall and majestic like his dad, brought one of Geoffrey's favorite pieces of jewelry, a large turquoise stone necklace, so the dancers could feel his presence. Others participating in this magical process included former DTH principals Charmaine Hunter, Donald Williams, ballet masters and former company members Keith and Kellye Saunders. Also, former DTH principal Kevin Thomas made it possible for four men and four women from his Memphis-based company, Collage Dance Collective, to join DTH for the upcoming New York performance of "Dougla." And, for icing on the cake, Cuban-born composer, conductor and former DTH Music Director Tania Leon will conduct the group of master drummers accompanying "Dougla," a group that includes some who performed when the piece originally premiered.
Describing the process of reconstructing the work, Donald Williams said, "'Dougla' is wonderful steps and Geoffrey uses them brilliantly, but it's so much more than the steps. It's about where the steps come from. What's the motivation behind them? That's Geoffrey. That's how you pass that on." He was referring to the attitude and swagger that makes "Dougla" special.