Eagle Academy wrestlers garner All-American honors
Jaime Harris | 3/29/2018, 2:11 p.m.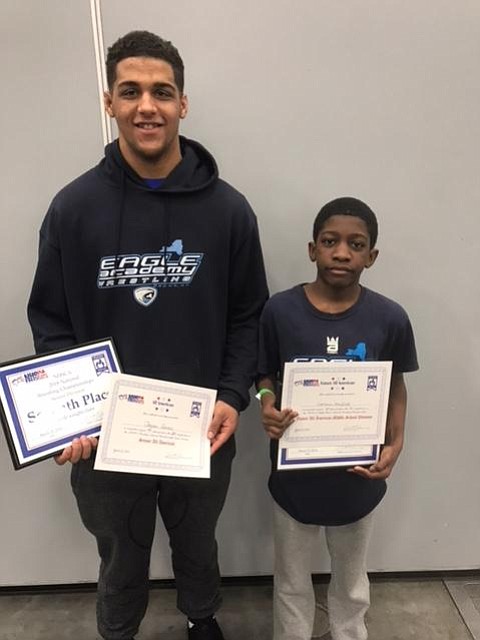 High School senior Jayson Gomez and seventh-grader Cameron Mayfield, both of Eagle Academy in the Bronx, earned prestigious All-American and Future All-American honors, respectively, at the 29th National High School Coaches Association Nationals, held at the Virginia Beach Convention Center this past weekend.
Gomez, competing in the heavyweight division, finished 6-2 for seventh place. Mayfield, grappling in the 80-pound class, went 3-2 and secured eighth place. The top eight wrestlers in each high school division are bestowed the designation All-American. Competitors in grades below high school are categorized as Future All-Americans. Eagle was the only New York City school to produce All-Americans.
"I didn't even realize that I had placed as an All-American," said the 17-year-old Gomez, who is considering attending among other colleges SUNY Cortland, Johnson & Wales University and the University of Maryland. "A college coach came up to and congratulated me," continued Gomez, "and I was like 'Oh wow!' I came into the tournament with a lot of energy and confidence. Even after losing my first match, I still felt like I was going to have a really good finish."
Eagle's head coach John McGarry said Gomez's success is a culmination of commitment and hard work.
"I keep telling him if you put in the time and effort, good things will happen," said McGarry. "I'm really proud of Jayson and Cameron. Both of those guys deserve the recognition."
Mayfield, who will continue his academic and athletic journey at Eagle when he enters high school next fall, said he was emotionally overwhelmed at the outset of the tournament but ultimately was able to settle his anxiety.   
"I was nervous and excited at the same time," shared 12-year-old Mayfield. "I started to think to myself, 'Have I worked hard enough?' But once I started wrestling, I saw that I matched up well against the other kids so I settled down."
"Cameron has grown very well academically and athletically, and has shown great leadership traits," said Johnathan Khoury, a member of Eagle's coaching staff who guides the middle school wrestlers.
"Hopefully, Jayson and Cameron's success will motivate the other kids in our program."