Les Payne, a truth-telling journalist, remembered
Herb Boyd | 3/29/2018, 1:09 p.m.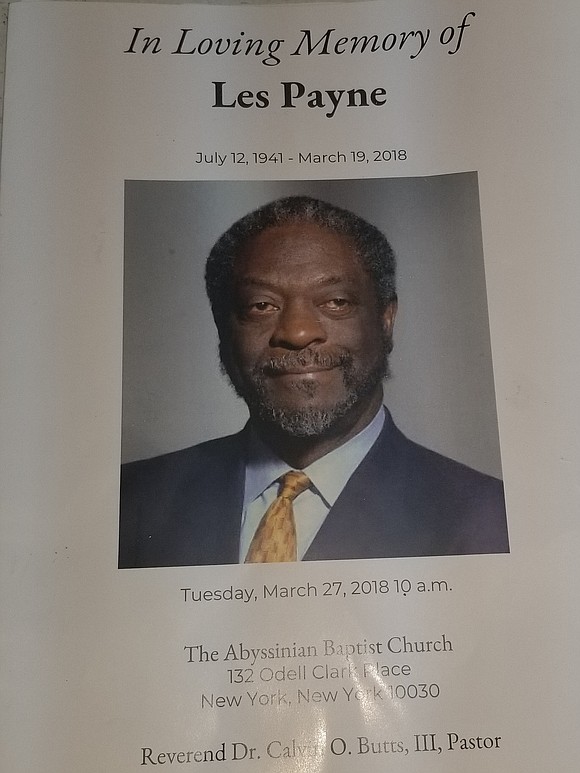 "Tell the truth, and duck" is advice Les Payne often gave to young journalists, and the admonition was repeated by his son, Haile, during the reading of Payne's obituary Tuesday morning at Abyssinian Baptist Church. Although Payne, 76, who died of a heart attack March 19, was an unwavering proponent of the truth, it's hard to believe he ever ducked, especially if you consider the many times the word "fearlessness" was mentioned of him at the services during the acknowledgments and remarks.
None of the several speakers, including Raymond Johnson, Dele Ologede, John Mancini and Joe Davidson, emphasized this truth-teller aspect with such passion and power as Randy Daniels. Daniels, who told the packed sanctuary that he had known Payne for 40 years, said he had "the intellect of Du Bois [W.E.B.], the fearlessness of Malcolm X and the physical presence of Sonny Liston." He added, "You could not have a better friend. He was a good and decent man. He lived an exemplary life."
The Rev. Dr. Calvin Butts III, the church's pastor who officiated the funeral, echoed Daniels' comments about Payne's ability to speak truth to power. "He was a truth-teller," he said. "I think in searching, Les found the truth, and God took him…and left you a legacy that you can be proud of."
Few in attendance expressed that proudness as eloquently as Payne's son, Jamal, who brought the crowd to its feet minutes before Daniels' rousing speech. Jamal said his father was the first superhero he knew. "I do not want my father to become a caricature of himself, an angry Black journalist. Yes, my dad is Black, unapologetically Black, and yes, he wrote that column that made many uneasy. But he was not angry."
Then in a series of exhortations, Jamal recalled his father as a five-tool journalist: "Writer, reporter, investigative reporter, editor, manager. I lost my favorite superhero last Monday."
And so did the world of journalism and readers seeking truth-tellers, and as one of the church's deacons cited, quoting from the New Testament, Payne "fought the good fight…finished the race and kept the faith."
It took two pages in the program to capture some of the highlights of Payne's illustrious life, a life of adventure from South Africa to Turkey, a life of commendation and awards. The American flag draped over his coffin was emblematic of his six years of military service and recalling his days composing press releases for General William Westmoreland during his command in Vietnam.
One of the most enlightening paragraphs in the obituary offered tidbits of the headline stories that Payne either authored or were published under his editorial jurisdiction, including the assassination of Dr. Martin Luther King Jr., the Black Panther Party and the Symbionese Liberation Army. "His international reporting included extensive coverage of Africa, Europe, the Caribbean and the United Nations," the obituary noted. "In 1974, Les won a Pulitzer Prize for 'The Heroin Trail,' a series that traced the international flow of heroin from the poppy fields of Turkey to the veins of drug addicts in New York City."