New York City has a gang policing problem
JOSMAR TRUJILLO | 3/29/2018, midnight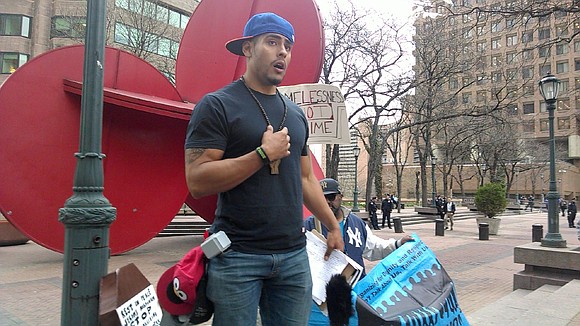 Last week, community activists, along with the American Civil Liberties Union in Southern California, won a historic ruling in federal court that put on hold, as least temporarily, Los Angeles' enforcement of gang injunctions. The injunctions, a staple of Los Angeles' anti-gang strategy since the 1980s, prohibited alleged gang members from things such as carrying cellphones and, in some cases, from associating with other alleged gang members, including their own families.
In 2016, critics of Los Angeles' anti-gang tactics gained some insight into how gang designations are made when auditors found the state's gang database, CalGang, full of errors—even listing toddlers as gangbangers.
In New York City, anti-gang tactics are intensifying, but the NYPD's gang strategy is secretive. The way that New York police tag someone as a gang member might have many of the same problems as CalGang has, but we don't know because so far the Police Department has ignored recent Freedom of Information Law requests we and legal organizations filed last year.
How would you know if you or someone in your family know if you are in a gang database? Utilizing a model known as Operation Ceasefire, police in New York sometimes send threatening letters, visit or compel young men in communities of color to attend meetings. We've heard stories of young men being stopped jaywalking only to be brought to a precinct to be interrogated about gang activity. Police indicate to their targets that if they or someone they know breaks the law, the police hammer will come down hard.
And the police hammer has been coming down hard in recent years. Thousands of mostly young Black and Latino men, according to the NYPD, have been arrested as a result of so-called gang raids in recent years. Although some might have been contacted by the NYPD, many, including residents of West Harlem and the Eastchester Gardens section of the Bronx—which hold the distinction of the two biggest gang raids in city history—never knew they had been labeled gang members. In fact, many dispute their gang label as they are hit with complex conspiracy and RICO charges originally designed to take down the Mafia.
One of the problems with Los Angeles' gang injunctions is at play in New York: no one has an opportunity to challenge, legally or otherwise, their gang designation. There are other concerns with gang policing tactics in other cities that city residents must also keep in mind.
In New Orleans, local officials recently scrapped its partnership with Palantir, a big data firm linked to the CIA that was founded by controversial billionaire—and Donald Trump supporter—Peter Thiel. The move came after a series of investigative stories exposed a relationship so secret that local lawmakers didn't even know it existed. Palantir helped the New Orleans police surveil and make use of residents' social media activity to build questionable gang-related cases against them.
Palantir has also enjoyed a yearslong partnership with the NYPD, with no oversight by the City Council. Palantir was a donor to the privately run NYC Police Foundation before snagging a contract with the police department—an arrangement that has raised eyebrows. And although Palantir's deal with the NYPD might be over, it might still provide data analysis for Manhattan District Attorney Cyrus Vance, who has used the company's intelligence in trials of young Black residents of Harlem.
In the 2016 trial of Taylonn Murphy Jr., who was convicted of murder despite a lack of forensic evidence or a murder weapon, Palantir's reports of Taylonn's Facebook posting patterns were used by prosecutors to try to convince the jury of his guilt. Palantir recently won a nearly $900 million contract with the U.S. military.
Gang is a word loaded with political connotations that elicit sensationalistic media coverage and serious legal consequences. Should a CIA-backed group be involved in how we deal with youth violence? Do we have toddlers on New York City's gang database? A police department that won't fire abusive cops and that news reports show continues to employ officers who lie under oath cannot be trusted to mark someone a gang member. At the heart of the story of Pedro Hernandez, the Bronx teen eventually freed after being locked up on Rikers Island for more than year, was Detective David Terrell, who was a supposed expert on local gangs.
New Yorkers should take note of what is happening in Los Angeles, New Orleans and elsewhere and seriously question the city's gang tactics. The methods might not only be unconstitutional but also be an intensely immoral way of dealing with our youth.
Josmar Trujillo is a writer and activist.