Sophisticated shapes and designer news for fall '18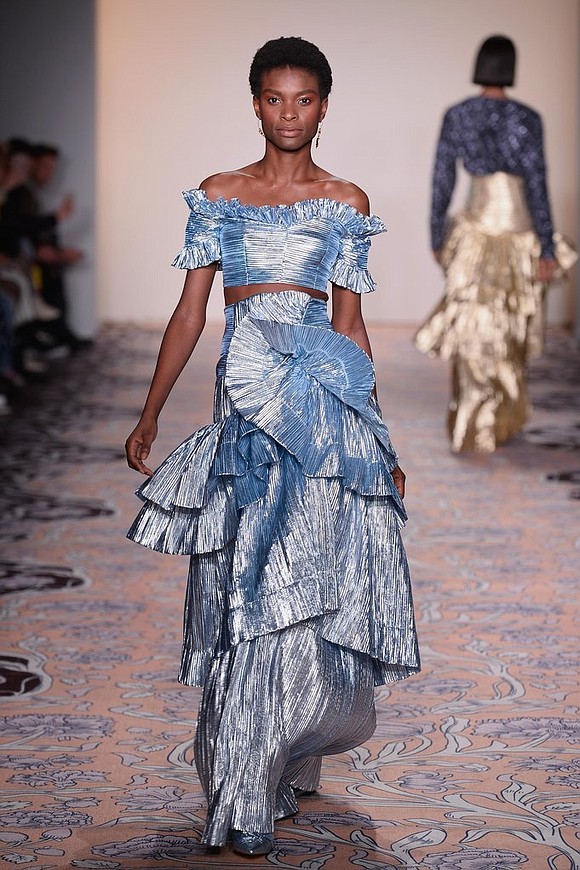 This just in: Designer Virgil Abloh was appointed the first African-American designer to hold the position of artistic director of menswear at Louis Vuitton. Abloh founded the street wear label, Off-White, and he has worked as the creative director for Kanye West. He is one of a few designers of color at a top European design house. Others in such a position include Olivier Roustring, the creative director of Balmain, and Britain's Ozwald Boateng, who worked for Givenchy's menswear division during 2003 and 2007. Stay tuned for more news about Abloh!
For fall '18, Prabal Gurung focused on the waist and feminine female figure. The dresses and skirts in this collection are asymmetrically shaped from the waistline to hemline. Often colors were two-toned, such as black and white combos. There were color-coordinated trims on ruffles and the bottoms of skirts. Most of Gurung's looks were belted. The colors of the collection included white, blue, red and magenta. Two highlights from his New York Fashion Week show that received applause included a fur-collared coat and a diagonal, belted shawl ensemble.
Born in Singapore and raised in Kathmandu, Nepal, Gurung performed a two-year stint at Cynthia Rowley and worked as design director at Bill Blass for five years before launching his own collection, Prabal Gurung. In his collection, he focuses on quality and innovation. His clothes are worn by leading ladies, including former First Lady Michelle Obama and the Duchess of Cambridge. In February 2017, he launched a collaboration with Lane Bryant.
Designer Alice McCall's clothes are playful, quirky and fun with a kick of sexiness. McCall offers vintage styling with injections of flared silhouette, belled sleeves and pastel colors. At the age of 19, she started her fashion career when she moved to London. She worked as a stylist for Conde Naste. In the beginning of her career, she sold one of a kind pieces, which helped to gain a client base quickly. Season after season, McCall's designs remain unique and feminine. For fall '18, prints, patterns and graphics are important. This designer also experiments with fabric techniques from delicate hand embroidery to developing custom in-house lace. Her craft concept remains core to her brand. Her New York Fashion Week show exceeded all expectations.