Executed: Cops kill another unarmed Black man
CYRIL JOSH BARKER | 3/29/2018, midnight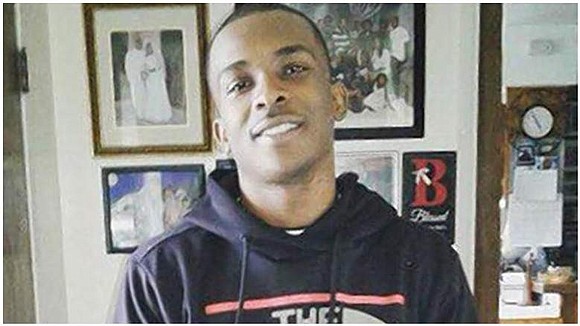 The nation yet again grapples with another police shooting of an unarmed Black man, resulting in outrage and citizens asking, "When will it end?"
Sacramento, Calif. is the epicenter this time with the police killing of 22-year-old Stephon "Zoe" Clark. Reports indicate officers shot at him 20 times March 18 when they thought he had a gun that turned out to be just a cellphone. The incident was caught on police bodycam video and released by the Sacramento Police Department.
As protests continue in the Golden State, Clark's family and the community are coming together to lay to rest the father of two young children who family members say loved to make people smile.
Law enforcement officials said police were responding to reports of a subject breaking into vehicles just before 9:20 p.m. The suspect was described as male, 6-foot-1, thin, wearing a black hoodie and dark pants.
The Sacramento Sheriff Department's helicopter was on the scene and observed the suspect in a backyard and told officers on the ground where he was. The Sheriff's Department officers in the air said they saw the suspect break the window of a house that belonged to Clark's grandparents with a toolbar and run toward the front of the residence.
Officers say they gave Clark commands to stop and show his hands, but he ran into the backyard. They followed and yelled, "Show me your hands! Gun! Gun! Gun!" before shooting Clark. Officers said Clark allegedly held an object that he "extended in front of him." The object was determined to be a cellphone.
Police bodycam video captured the incident. However, reports indicate that an officer is heard saying, "Hey, mute," before audio from the camera was turned off.
"They didn't have to kill him like that," Clark's grandmother, Sequita Thompson, said during a tearful news conference. "They didn't have to shoot him that many times. Why didn't you just shoot him in the arm, shoot him in the leg, send the dogs, send a Taser. Why? Why? Y'all didn't have to do that."
No charges have been filed against any officers. The State of California Department of Justice is overseeing the investigation and conducting an independent review.
Clark's brother, Stevante, said his family is skeptical of the officers' account of what happened.
He stated, "They said he had a gun. Then they said he had a crowbar. Then they said he had a toolbar ... If you lie to me once, I know you'll lie to me again."
Since the shooting, protesters in California have been mobilizing at City Hall, the State Attorney General's office, a major interstate and Golden1Center, where the Sacramento Kings NBA team plays.
Tuesday, protesters attended a City Council meeting demanding answers about the shooting. During one councilmember's speech, Stevante Clark entered the chambers chanting his brother's name.
"We must say loud and clear that what happened to Stephon Clark was plain wrong," Sacramento Mayor Darrell Steinberg said. "It's wrong, because a 22-year-old man should not die in that way."