Union members speak out against slashed pay and benefits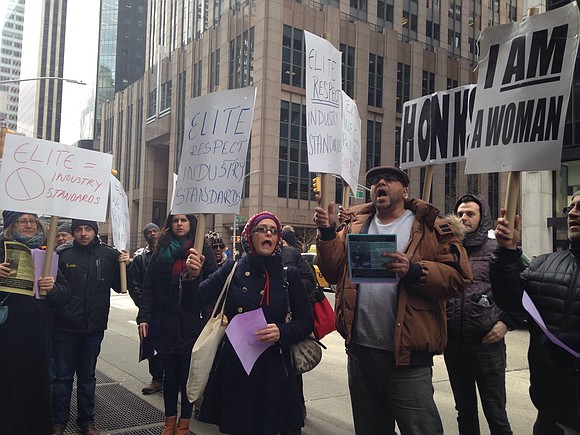 Last week, members of 32BJ, along with security offices, rallied outside of 1180 Sixth Ave. to protest cuts to their wages and benefits.
Workers gathered outside of the building in the Rockefeller Center area to protest the employer Elite Investigations, which cut most of its workers' wages and took their benefits away.
Earlier this month, 32BJ filed a complaint on the workers' behalf to the National Labor Relations Board because Elite Investigations prohibited them from discussing their salaries and benefits in public. Workers said this prohibition violates their labor law rights.
"I just bought a house for my family so that we'll have a better place to live in," said Samer Katabi, a 10-year employee at 1180 Sixth Ave., in a statement. "But now that Elite Investigations cut my salary almost in half—from $25 an hour to $15 an hour—and took my benefits, I don't know how to pay for home expenses."
Katabi is the main income earner for his younger sister and disabled parents. Eddie Baker, a 15-year employee in the building, said that the loss of wages and benefits has affected his health.
"After Elite cut my wages and took my benefits, I have been feeling depressed and can't sleep at night wondering how to keep up with expenses," said Baker in a statement. "On top of our monthly living expenses, I'm also paying for my daughter's student loans. I don't know what will happen to my family."
Elite Investigations took over jobs for six security officers in the 22-story building after it was sold in February.
"Before Elite took over, these jobs had provided good wages and benefits for these workers to support their families," said 32BJ Vice President Denis Johnson in a statement. "Now the workers who depend on these wages and benefits have been forced to struggle. Our members will not let employers like Elite Investigations think they can get away with arbitrarily cutting wages and taking away benefits all our members have fought so hard for."
New York City Council Member Keith Powers represents the area where the building is located. He said that he's on the side of the workers and called Elite Investigations' actions a violation.
"Workers like Samer and Eddie have fought hard to get good wages and benefits to sustain their families," said Powers in a statement. "The actions of their employer Elite Investigations threaten the lives they've worked to build, and I will support their rights and the rights of other workers in our city."