Women's Final Four is set
Lois Elfman | 3/29/2018, 2:39 p.m.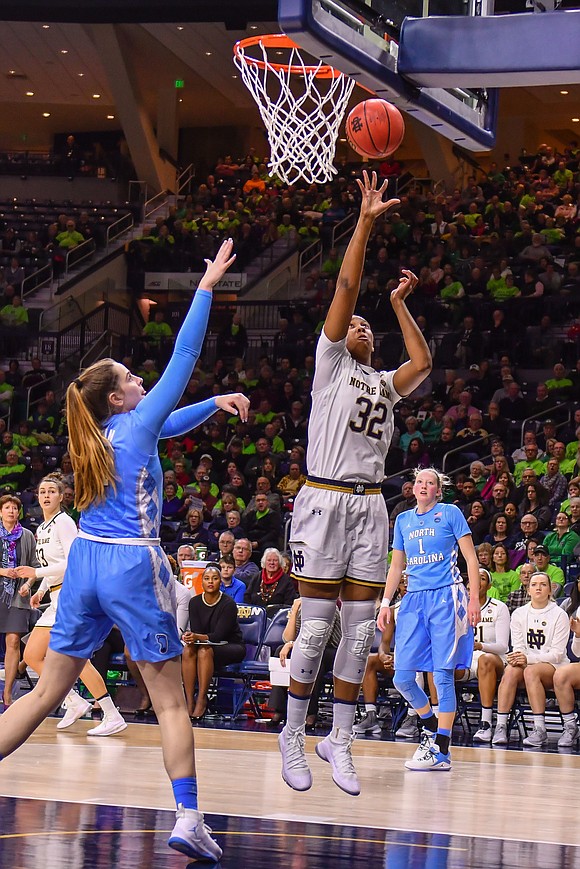 The hub of Division I women's basketball action moves to Columbus, Ohio, for the NCAA Women's Final Four. In the semi-finals Friday, University of Connecticut will take on University of Notre Dame, and Mississippi State University will play University of Louisville. None of these teams are new to the Final Four, but Mississippi State and Louisville are both looking for a first National Championship.
Last year, Mississippi State scored the upset of all upsets, defeating UConn to advance to the final game, which it lost to University of South Carolina. Clearly, being so close to the title inspired the Bulldogs, which lost only one game this season, in the SEC Tournament.
"These kids have had two pretty big bullseyes on their back all year long, and have just really handled that, unlike any time I've ever coached," said Mississippi State coach Vic Schaefer. "It's the best offensive team I've ever been associated with in 33 years."
Although there are no local teams in the Final Four, there are some local players. Among them is Louisville senior forward Myisha Hines-Allen from Montclair, N.J., the Cardinals' leading rebounder and second leading scorer.
"She is an absolute joy to coach and to have a part of our program. She'll go down as one of the best players that's ever played here," said Louisville coach Jeff Walz about Hines-Allen. "Now she's playing some of the best basketball that she's ever played, and that's a testament to her."
Two locals figure prominently on Notre Dame's team, junior guard Marina Mabley from Belmar, N.J., and freshman forward Danielle Patterson from Brooklyn, N.Y. Fighting Irish coach Muffet McGraw said the word that best defines her team is resilience.
Of course, everyone is gunning for UConn while the Huskies are looking for a record 12th National Championship. Legendary Huskies coach Geno Auriemma said fans should sit back and enjoy.
"I think the field is maybe the strongest I've seen in a long, long time, maybe ever," said Auriemma. "The fans are in for a treat. I don't know if the coaches are, but certainly the fans are in for a treat."
The Women's NIT Tournament also concludes this weekend. Unfortunately, no teams from New York or New Jersey will be competing. Fordham lost to Virginia Tech in the third round, and St. John's was defeated by West Virginia in the quarter-finals.