2018 Tony Award nominations announced
LAPACAZO SANDOVAL | 5/3/2018, 4:09 p.m.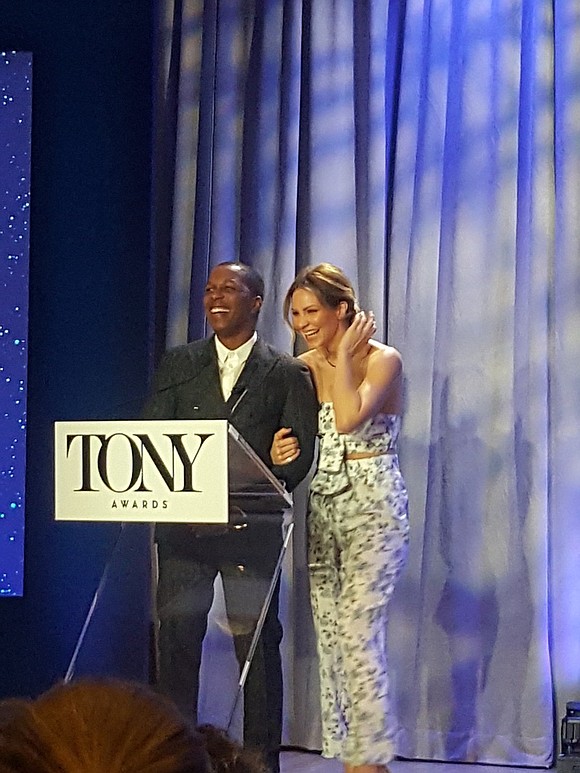 Leslie Odom Jr., who took home the Tony Award for Best Performance by an Actor in a Leading Role in a Musical for his portrayal of Alexander Hamilton's longtime rival—and eventual killer—Aaron Burr in "Hamilton," and "Waitress" actress Katharine McPhee hosted the live reading of the 2018 Tony Awards.
To loosely quote a song in "Hamilton" written by Tony Award winner Lin-Manuel Miranda entitled "In the Room Where It Happens," well, that's just where I was on behalf of the New York Amsterdam News' new digital column, Curtain Raiser. It was an early press call to attend the live announcement, and it was worth losing a little bit of shut-eye because Odom Jr. and McPhee put on a show.
"OMGod, he's so handsome!" exclaimed a honey blonde reporter sitting just to my right. "I mean, mercy, I can barely concentrate on the nominees they are announcing; he's pulling my focus."
It's moments like this one, provided by Odom Jr.'s new fan, that makes covering live events so juicy for a storyteller. To that end, I turned my ears to listen and to hear the comments coming from the very small group of esteemed journalists who cover the theater scene, year after year.
And then something happened on the stage. There was a silent pregnant pause. Odom Jr. and McPhee squinted their eyes, looking hard at the prompter, but there was nothing written for them to say, so Odom sang, softly at first but loud enough for the assembled to hear. "There's no business like show business like no business I know," he crooned close to his co-star's ear. McPhee smiled and picked up the Irving Berlin classic song, adding, "Everything about it is appealing, everything that traffic will allow. Nowhere could you get that happy feeling." She trailed off as they were both whisked to the side of the wings to wait for new direction.
When the two returned, it was almost smooth sailing until McPhee had to announce "SpongeBob SquarePants" 11 times. She got tongue-tied in her first attempts, leaning on Odom's shoulder trying to hide her laughter, which was dangerously close to making the assembled laugh as well.
There is something magical about hearing laughter inside a theater and as the two continued it was clear that "SpongeBob SquarePants" and "Mean Girls"—both musicals—were having a great day.
"Mean Girls" is adapted by Tina Fey and her composer husband, Jeff Richmond, from Fey's movie by the same name, and "SpongeBob SquarePants" is based on a cartoon television show with a cult status. Both musicals led the pack of Tony-nominated shows, with each earning 12 nominations.
Eleven is the lucky number for five well-reviewed productions, which include "Angels in America" and "Carousel." In the New Musical category, it was a huge day for "The Band's Visit" which also earned 11 nominations.
Still racking up an impressive number of nominations is the brand-new play "Harry Potter and the Cursed Child," with 10 nominations. And keeping the lucky 10 streak alive, the revival of "My Fair Lady" also earned 10.
It's always great to see veteran thespians recognized for their work, with Denzel Washington being tossed into the mix with Diana Rigg, Tony Shalhoub, Andrew Garfield, Tina Fey, Amy Schumer, Michael Cera and Renée Fleming.
Bruce Springsteen and John Leguizamo are both winning Tony Awards.
At 68 years young, Springsteen's special Tony Award is in recognition of his ongoing song-and-storytelling show, "Springsteen on Broadway," which has been running at the Walter Kerr Theater since October.
Leguizamo is being given his special Tony because of "his body of work and for his commitment to the theater, bringing diverse stories and audiences to Broadway for three decades."
"Latin History for Morons," which ran this season and was also nominated for best play, is Leguizamo's fourth one-man show on Broadway.
According to press materials, there were 30 Broadway productions that were eligible for Tony Awards.
The 2018 Tony Awards will take place June 10 at Radio City Music Hall and will be broadcast on CBS.