Brandy Odom remembered as a bright light, not a statistic
LEROY BAYLOR | 5/3/2018, midnight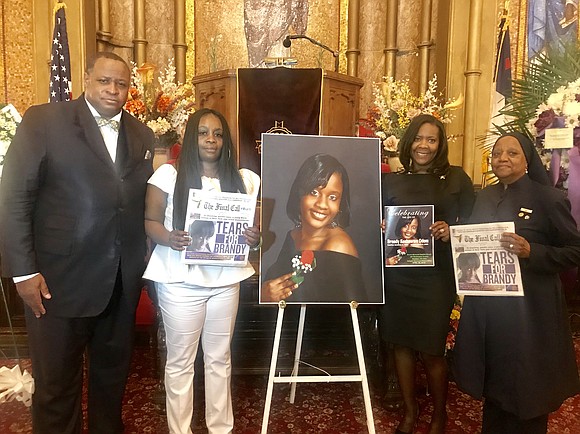 Brandy Odom, 26, the victim of a horrendous murder that has sent shock waves of fear and emotion throughout the city, was celebrated at her funeral Thursday, April 26, before 500 mourners in Brown Memorial Baptist Church in Brooklyn.
Among those attending the funeral were Borough President Eric L. Adams; Min. Abdul Hafeez Muhammad, Min. Farrakhan's East Coast Regional representative; and community advocate Tony Herbert. Their collective presence was to reinforce to the NYPD the family's concern that the investigation into Odom's death has the same intensity given tragedies in white communities
Odom's death could have been easily passed over as another statistic, added to the much too frequent deaths of Black youth in America. However, interviews with family and friends before the funeral services reveal the type of daughter a family needs when so many Black people are frustrated by a system that suppresses the dreams and potential of vast numbers of citizens.
Odom was small and dark complexioned, and she continuously surprised friends with her habit of taking the "im" out of the impossible, according to former neighbor and friend, Jason Savage.
"She made other people believe because of her focus," he shared. "What was fascinating about Brandy is she was a go-getter. She would tell you her vision, what she wanted to do and then always accomplish it. She told us she was going to join Job Corp to get skills, and we didn't believe. But the next thing you knew is that she was gone away and came back with the skills she was determined to get. She really wanted to be a flight attendant. She motivated the rest of her friends."
Odom's aunt, Stacy Henry, one of several aunts in attendance and a sister of Odom's deceased father, Rodney Tucker, said that Odom's death was particularly heavy on her daughter, Daquana, 27, because Odom's body was found on the same day as Daquana's birthday, April 9. She said that whenever her brother visited her family, he had Odom with him and Daquana and Odom were very close.
Odom's sister, Aisha Odom stated that as a baby Odom demonstrated the desire to do for self, starting with designing and making doll clothes. She was very independent, goal oriented, was a great cook.
"Brandy was small because she was a premature baby, but she was big in people's lives" Aisha Odom said, "She was always giving, on call for others, making other people happy, a great aunt to our nieces and nephews."
"She was like her father," added Odom's uncle Tiny, "Brandy was ambitious and her father was a go-getter. She had lots of energy and fun loving ways."
It is easy to see the positive life of Odom making her loss extremely painful for family and friends. Loss and grief come together and grief drains the life of the living who dwell on loss. It was to this reality that Min. Abdul Hafeez Muhammad addressed his eulogy remarks.
"We have come here, family, to give honor to her life." he said, "We're not here to focus on how she died. We're here to focus on how she lived. This beautiful picture of sister Brandy Odom is how we should remember her.