Brandy Odom remembered as a bright light, not a statistic
LEROY BAYLOR | 5/3/2018, midnight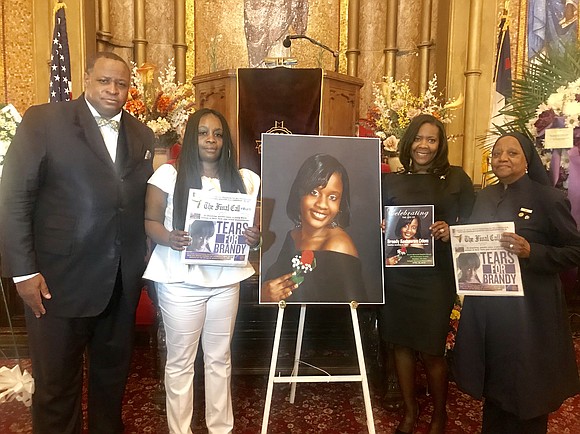 "Anyone can kill our body, but the Hon. Elijah Muhammad teaches us to fear the Lord who can kill the body and the soul. There is one thing that the murderers of Brandy cannot do and that is to kill the soul of Brandy Odom. That soul rests with the Lord."
Min. Hafeez brought personal condolences to the Odom family from Min. Farrakhan, who he was with the day before in Boston. Farrakhan's message to them, he said, was that justice will be served. Min. Hafeez, who attended the services at the request of the family, affirmed his commitment to let the city and state officials know that there is an array of persons who want to see that Odom's murder at the hands of diabolical minds is as thoroughly pursued as murders in other communities. This commitment, he explained to the church that erupted in applause, is why the Nation's international paper, The Final Call, gave front page importance to Odom's story, something the dailies in New York had not done.
His eulogy included directives to Black men and youth to respect and elevate all women, especially Black women. To the women in the church, he advised them to accept their features and reject "add-ons" they don't need. "Love yourself as you are," he advised. "You are beautiful. Get knowledge because when you teach a woman, you teach a nation."
After the services, Odom's mother, Nicole, said she wanted Odom remembered as a loving, joyful child and that parents should love and cherish their children. "Life is too short," she warned.
"Brandy was a premature baby who almost didn't make it at birth and the days afterwards," she added, "I saw her as a fighter from the time she was born. Her life showed me she was meant to be. My 26 years with her was a blessing. I wanted a dark complexion child. That's why I called her 'Chocolate.' I firmly believe that God sent me the Nation of Islam to help me because I've had no feedback from the NYPD, nor the Medical Examiner's office. I have more faith in the Nation of Islam than the NYPD."