Continue to support brave Black women
Christina Greer, Ph.D | 5/3/2018, 11:13 a.m.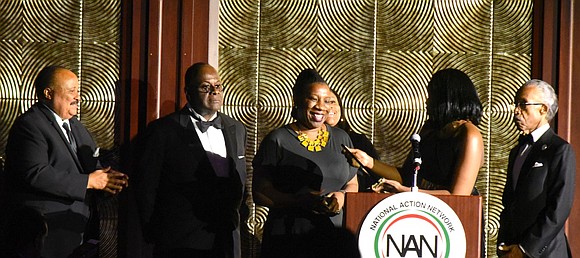 It seems like each week there is a different male celebrity accused of sexual harassment and/or sexual assault. These past few years have been a new era of women coming out of the shadows and telling their truths. Tarana Burke served as the architect of what we now know as the #MeToo Movement, and it appears that a real and palpable shift has occurred in the way we speak about and confront sexual violence against women.
Far too many male celebrities and sympathizers are branding this particular cultural moment as a "witch hunt." However, the scales of power have very rarely (if ever) been in favor of women. I might argue that the scales of power have never been in favor of women of color in this country as well. For a woman to step forward and tell her truth she knows that (1) she will likely be villainized and called a liar, (2) she is speaking out against a more powerful and wealthier individual, (3) she will likely be exposed to scrutiny like never before and (4) she might not be believed, hence suffering yet another trauma. These factors are what women must weigh when thinking of speaking out. It is not easy and the "reward" is often a small solace, hopefully bringing some closure to the traumatic event(s).
The work of Burke is so important because she is giving a voice to women and girls across the country who speak out against the pervasive culture of sexual violence and assault. Burke is currently the senior director of Girls for Gender Equity in Brooklyn, an organization that strives to help young women of color increase their overall development through various programs and classes. Now more than ever, we need organizations such as Girls for Gender Equity, especially in a moment when the commander in chief of the United States is on tape having admitted to grabbing women by their genitals and boasting about his overall ability to sexually intimidate women and girls into giving him what he wants because he is "rich" and powerful.
Again, I remind my readers that this country was founded on the four principles of white supremacy, capitalism, anti-Black racism and patriarchy. Taking all four of these elements as a whole, we must continue to support Black women as they speak out about their experiences with sexual violence and assault. There are many women leading the charge and they (and their organizations) need our support, emotionally and financially. And for those women who have not yet found their voices and are willing to speak out, just know that you are supported by a growing community of people who believe you and stand with you.
Christina Greer, Ph.D., is the 2018 NYU McSilver Institute Fellow and an associate professor at Fordham University, the author of "Black Ethnics: Race, Immigration, and the Pursuit of the American Dream" and the host of The Aftermath on Ozy.com. You can find her on Twitter @Dr_CMGreer.