Curry is back to dropping threes—An uplift for Golden State
Vincent Davis | 5/3/2018, 11:31 a.m.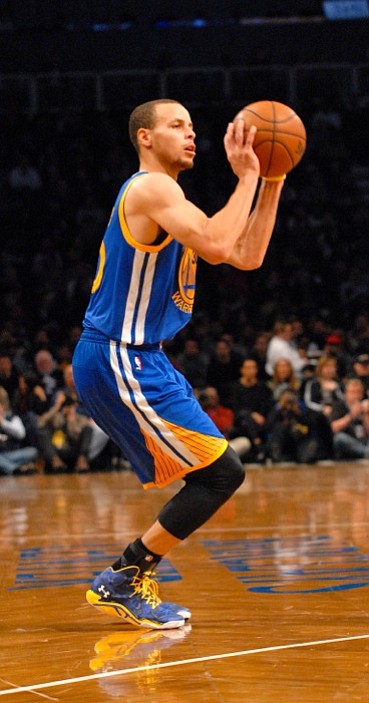 It's Game 2 with 4:20 remaining on the clock in the first quarter. Anthony Davis, the New Orleans Pelicans' power forward, had just scored. Nikola Mirotic makes a free throw on a one of one after an Andre Iguodala loose ball foul. It's 19-11 Pelicans. Stephen Curry comes off the bench to a standing ovation, his first playoff appearance since the postseason began April 14. 
The Golden State Warriors had been without their high-scoring, three-point shooting guard for the first round of playoffs against the San Antonio Spurs, who they defeated in five games. 
"That was a special moment when Steph checked into the game," said Warriors head coach Steve Kerr.
Curry had been sidelined since spraining his left knee March 23, a 106-94 home win against the Atlanta Hawks. It was the same day he returned from an ankle injury that had him benched for multiple games, 10 regular season and six postseason. 
It didn't take Curry long to reacclimatize himself and contribute. After nine seconds on the court, Curry gets the ball from a Draymond Green pass to drop a three. 
"It brought a lot of life to the building, a lot of life to our team's spirit," said Green of Curry's immediate three, his first shot of the postseason. 
Curry hit for 28 points and had seven rebounds and three steals off the bench in 27 minutes of play; Green had 20 points, 12 assists and nine rebounds, a rebound shy of a triple-double; and Kevin Durant had 29 points, seven assists and six rebounds for Golden State's second win over New Orleans, a lower 6-seed who swept the Portland Trailblazers, a 3-seed, 4-0, in Round 1 to advance to the Western Conference semifinals against the Warriors. The Pelicans, with the nucleus of Davis, Rajon Rondo and Jrue Holiday, were the first team to advance in the playoffs to advance to the next round. 
The Warriors-Pelicans series resumes tomorrow night, Friday, and continues Sunday in New Orleans for two games. Game 5 is scheduled for Tuesday if the Pelicans can get at least one win at home. The Warriors, the defending champions, a 2-seed, have home court advantage. The Houston Rockets, the 1-seed playing the Utah Jazz, the 4-seed, also play tomorrow and Sunday, Games 3 and 4. 
It's the first road game in the second round for the Rockets, who defeated the Minnesota Timberwolves in five games in Round 1. Utah, with their Rookie of the Year candidate Donovan Mitchell, who hit for 21 points and dished off five assists in Game 1 against the Rockets, eliminated the Oklahoma Thunder in five games.