Farewell to B.B. Kings Blues Club
5/3/2018, 3:33 p.m.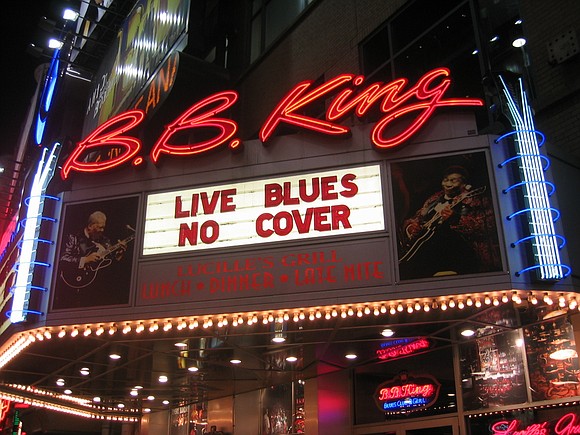 For close to 20 years we'd get together for a good time at least three times a month on average. Things were going along just fine. Or so I thought. Then bam! Out of left field it's a wrap. As much time as we spent together, you'd think I'd be one of the first to know that the end of our relationship was near. But nooo! How did I find out? On social media of course. Cold-blooded. Here's how it read when announced last week:
"It is with an extremely heavy heart that we share that after 18 wonderful years bringing you live performances by some of the most talented names in music and entertainment, we have announced our final run of shows in the current Times Square location. As a result of escalating rent, we are being forced to close our doors at the end of April. While we are in the process of selecting a new location in Manhattan to relocate the venue, we wanted to curate a special closing week celebration to thank you all for your support over the past two decades. None of this would have been possible without you and we are eternally grateful!" 
With those words, the unconventional union of myself and hundreds of others with the B.B. King Blues Club & Grill venue was severed.
A formal press release gave a more detailed explanation. Tsion Bensusan, chief operating officer of the venue operator, TSE Group, stated, "Despite many sold out shows, the location's rent escalated to an unsustainable level, leaving us no choice but to close our doors. Unfortunately, this has become a growing trend in New York City, with other iconic music venues and businesses falling victim to opportunistic property owners. This venue's legacy extends much further than the stage, playing a role in Times Square's revitalization two decades ago. It is a shame that wasn't taken into consideration regarding its future in the area. Nevertheless, we feel extremely grateful for the overwhelming support we have received from both fans and artists over the years to create some truly historic and incredible memories in this space. We hope that we can find a new place to call home very soon so we can continue bringing live music to you all."
A few short weeks ago, the club played host to separate performances by Brandy and Frankie Beverly & Maze. Stellar artists added to the list of artists that played the venue. Since its opening in 2000 in the heart of Times Square, top-flight performers who have graced the stage include Dick Gregory, Etta James, James Brown, Chuck Berry, B.B. King, DMX, Aretha Franklin and Prince—a few of the names that come to mind.
The swan song shows occurred April 28 and April 29, with respective artists George Clinton & Parliament-Funkadelic and Buddy Guy.
The weekly Sunday Gospel Brunch featuring the Harlem Gospel Choir ended April 29. TSE Group is currently working with the choir to find a new home for their weekly residency, which will be announced shortly. 
Sony Hall at 235 W. 46th St., between Seventh and Eighth avenues, will now play host to the May 11 Brian McKnight and May 12 Will Downing dates.
Here's to new memories.
Over and out. Holla next week. Til then, enjoy the nightlife.