Guide to Palm Springs
MEGAN PINCKNEY | 5/3/2018, 3:41 p.m.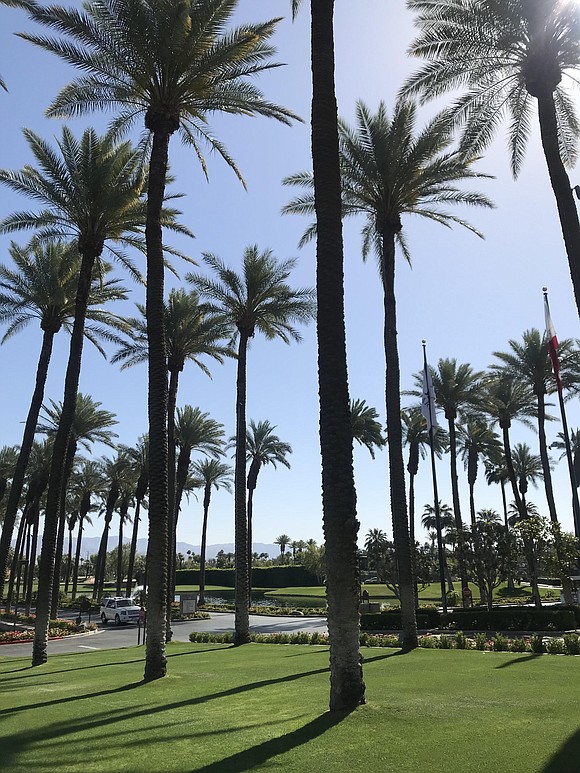 Known as one of the most stylish cities in the country, Palm Springs became a beacon for Hollywood starlets during the '50s and '60s. With a scenic mountain range that's never too far away and the hundreds upon hundreds of perfectly manicured palm trees, it's no surprise that the city of Palm Springs continues to see an influx of tourists and residents who choose to spend a portion of their year there.
One of the most quintessential lodging options is the Parker Palm Springs, a chic, midcentury modern-styled hotel with enough personality to become a character when you refer back to your trip. With more than 13 acres making up the property, you can count on finding something enchanting hidden around every corner. Take a dip in one of the three pools on property (one for every mood they say), or enjoy a game of tennis, péntanque, croquet or giant chess among an array of fruit trees, picturesque palm trees and a backdrop filled with mountains. Inside, things are even dreamier, thanks to the kaleidoscopic and all-around cool interiors by designer Jonathan Adler. The Parker also plays hosts to a variety of events, both private and public, so there's usually always something going on around there. A favorite among bloggers and it-girls, the Parker is a super trendy spot that is certain to give you a range of Instagram-worthy photos.
In Desert Springs, the next town over, there's a JW Marriott property that's ready to give you the "resort-feel" travelers often look for when visiting Palm Springs. There are two luxury 18-hole golf courses on the property that both offer breathtaking views of classic Palm Springs scenery. There are also three swimming pools, a tennis court, a kid's club, a top-of-the-line spa and a Japanese steakhouse and sushi bar with the option to arrive via boat from the hotel lobby. This property is massive and rooms can be located extremely far away from one another, but the staff recognize that and do their best to be as accommodating as possible. What's even better is the entire hotel is about to go through a full renovation to create more modern and technologically advanced rooms that they plan on revealing in the fall of this year.
I don't know if it is because locals are trying to beat the desert heat, or if it is because most visitors choose to sleep in, but Palm Springs has a ton of great brunch spots. While there, we tried quite a few, and although they all offered something different, the one thing they had is common was the ability to enjoy the outdoors (in shade, of course).
If you can't snag a room at the Parker Palm Springs, try grabbing a bite to eat there instead. During our recent trip we stopped in for brunch at Norma's and enjoyed their trendy outdoor seating area. Although prices are a bit excessive for a brunch menu, the serving portions are insanely large, and many items are plates you would have a hard time recreating at home (coincidently labeled under "mom can't make this"). We ordered the crunchy French toast and the turkey with sweet potato hash and loved every single bite.