Harlem EatUp! + James Beard = family
Kysha Harris, Food Editor, @SCHOPgirl | 5/3/2018, 4 p.m.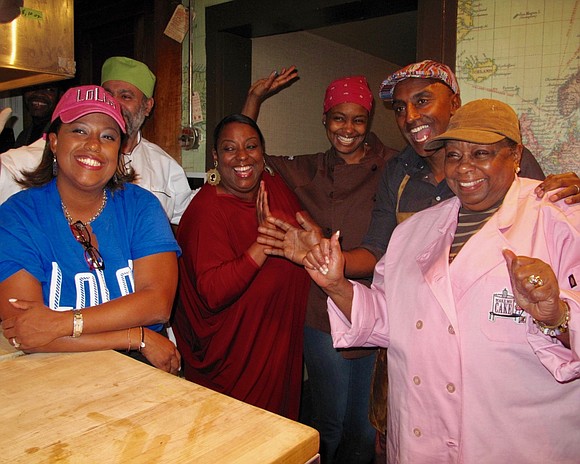 The annual Harlem EatUp! James Beard Foundation dinner went down, and it was good! Led by Harlem EatUp! festival co-founder, Marcus Samuelsson, a talented band of Harlem chefs and owners converged at the James Beard House and took us on a multicourse meal paired with phenomenal wines from Wente Vineyards.
The cocktail hour was filled with canapes by The Grange (@GrangeBarHarlem) of duck confit wontons with harissa orange glace, beet tartare and deviled quail eggs. There was none left for latecomers (…like me).
Here is the course-by-course call:
• King crab curry with Guyanese taro leaf-pumpkin-coconut milk callaloo and taro chips from @LoLosSeafood (my favorite dish of the night), paired with Riesling
• Sicilian stuffed sardines from @SettepaniNYC, paired with un-oaked chardonnay
• Lamb with black garlic, asparagus, kitfo and molé verde from @GinnysHarlem, paired with merlot
• Barbecue braised short ribs with roasted garlic mashed potatoes from @MelbasHarlem, paired with GSM (super amazing wine here)
• Dessert from @MakeMyCakeNY of red velvet shortcake, paired with Petite Sirah Port
Yet another wonderful Harlem evening at the Beard House of which to be proud. Thank you to all of the chefs, cooks and staff for your time and energy.