'The Iceman Cometh' captivates on Broadway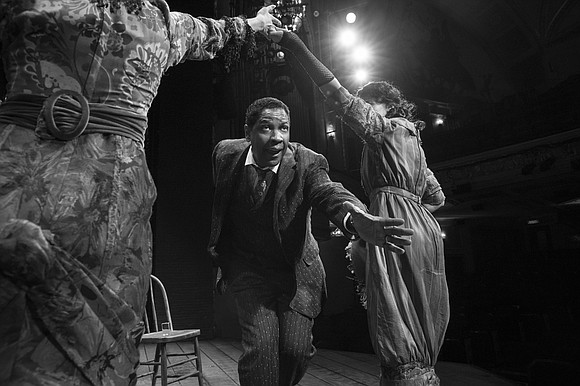 Eugene O'Neill's sobering play about the ills of alcoholism is having a powerful rebirth at the Bernard B. Jacobs Theatre on West 45th Street. Denzel Washington delivers a dazzling performance and is accompanied by a flawless cast that includes Colm Meaney, David Morse, Bill Irwin, Michael Potts, Reg Rogers, Jack McGee, Austin Butler, Frank Wood, Dakim Matthews, Clark Middleton, Neal Huff, Tammy Blanchard, Carolyn Braver, Nina Grollman, Thomas Michael Hammond and Joe Forbrich.
The combination at the theater is perfect: a deep storyline that demonstrates the evils of alcohol and how it ruins people's lives; a brilliant, skilled cast of actors; and the dynamic direction of George C. Wolfe. Wolfe is by far one of the best storytellers of our time. When he directs a production, he lays out the foundation, his actors carry the story and he magnificently guides the audience into a place where they are completely captivated by what is happening in front of them.
"The Iceman Cometh" is set in a rooming house—with a bar—where the occupants are alcoholics who have given up on life. These men had such diverse roles in society as journalist, a police officer, soldiers, a lawyer, a communist, a swindler and a member of a movement. The owner, also an alcoholic, takes care of these now misfits. His bartender moonlights as a pimp with two workers in his stable. Another worker is dating her pimp, also an alcoholic.
This assemblage might sound like a strange group, but the evils of alcoholism can bring together many strange bedfellows. These characters are people whose families have rejected them and give them money as a bribe to stay away. They have become a surrogate family for each other.
Denzel Washington plays Hickey, the main character. Hickey has been away and they are all excitedly awaiting his return, but the person he has become is not the fellow boozer they remember and love. He has changed in a way that makes everyone very uncomfortable.
The production is three hours and 50 minutes with two intermissions, and there is no late seating. Believe me, you cannot miss a moment. Every second in this production is important. Go and embrace a timeless storyline, brilliant acting and poignant direction, and see "The Iceman Cometh!"
For more information, visit