Jazz Notes: Unchartered, Hostos, St. Nick's, CBJC, Schomburg
Ron Scott | 5/3/2018, 4:13 p.m.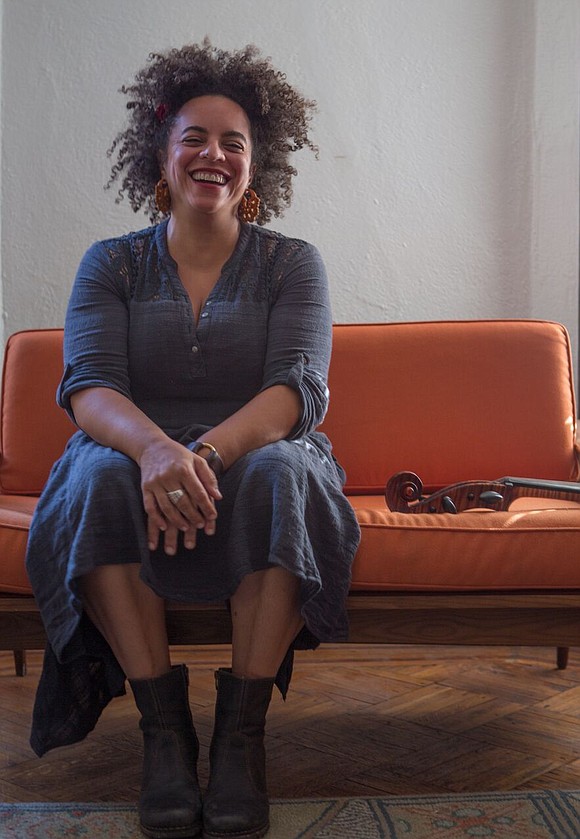 The cellist and songwriter Marika Hughes is a stirring musician who might cover a variety of genres in one show. The cello has never been an inclusive member of the jazz set, but in the hands of Hughes, it becomes a welcome mainstay.
May 3, the 2018 Unchartered Concert Series continues with Hughes showcasing her new combo The New String Quartet, featuring the violinist/vocalist Charlie Burnham, guitarist Marvin Sewell and bassist Rashaan Carter at Greenwich House Music School, 46 Barrow St., in the West Village (8 p.m.).
Rooted in the standards of the Western string quartet tradition, The New String Quartet will weave through Hughes' varied musical heritage, from classical and jazz to pop music and impromptu sketches.
The phrase for Hughes is "expect the unexpected." She is consistently up for new interpretations of classic songs and numerous originals, performed here for the first time live. She is a third-generation cellist, the granddaughter of the celebrated Emanuel Feuermann (Nov. 22,1902-May 25, 1942). Performances are $15 for advance tickets. Complimentary drinks will be served before and during all concerts. For information, call 212-242-4770 or website
music@greenwichhouse.org.
May 5, the adept percussionist and conga player Steve Kroon will bring his Latin jazz soul to Hostos Center for the Arts & Culture. His ensemble, Latin Jazz Sextet, will include keyboardist Igor Atalita, bassist Donald Nicks, vibraphonist Bryan Carrott, flutist Craig Rivers and drummer Diego Lopez.
"We will be preforming new music from our latest CD, 'In Your Dreams,'" stated Kroon.
The center is located in the Bronx at 450 Grand Concourse. There will be two sets, at 7:30 p.m. and 9:30 p.m.
Visit www.hostos.cuny.edu for more information.
May 7, in tribute to the demised St. Nick's Pub, a sho'nuff Harlem jazz institution legacy, Berta Indeed (Harlem's own songbird), Lady Cantrese and M.C. Murphy will feature Patience Higgins & The Sugar Hill Jazz Quartet. On display will be St. Nick's photographic memories from 1994-1997, "Stormy Mondays," by photographer Gerald Cyrus.
The tribute takes place at Studio 735 Bar & Grill Lounge, 735 St. Nicholas Ave. (at 147th Street), from 7 p.m. to 11 p.m. Admission is $10. This event will be a great time to reflect on the great memories had at the Pub, see old friends and tell stories that can't be printed.
Musicians will play in front of the vacant lot that was once St. Nick's Pub at 7 p.m., and then march second-line style (New Orleans) down to the tribute venue.
Please RSVP at 646-705-2932.
May 9, the Central Brooklyn Jazz Consortium will present its Brooklyn Jazz Hall of Fame Awards and Induction Ceremony, immortalizing musicians from the borough and members of the community who made significant contributions.
For 2018, the pianist Irving Sidney "Duke" Jordan is the sole inductee. This affair takes place at the Bedford Stuyvesant Restoration Corporation's Billie Holiday Theatre, 1368 Fulton St., at 6 p.m.
The Brooklyn Jazz Hall of Fame committee will present, "Newark's First Lady of Jazz," Dorthaan Kirk, with its Jazz Impact Award in recognition of her 39 years of service to the jazz community.