WITH MAY DAY AS BACKDROP, LABOR MILITANCY GROWS ANEW ACROSS AFRICA
(GIN) | 5/3/2018, 11:21 a.m.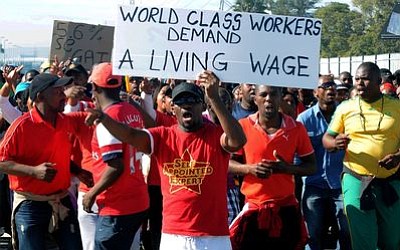 (GIN)—While teachers in the U.S. are rising up against slashed budgets and stagnant wages, workers across Africa are refusing to work for sub-par wages, long hours and the erosion of labor rights.
In South Africa, a nationwide strike was sparked when workers rejected a new minimum wage put forward by President Cyril Ramaphosa that was judged insufficient. Trade unions representing striking bus drivers have been meeting to discuss a way forward after negotiations reached a deadlock last week.
"The strike is on," declared Puseletso Molise of the South African Federation of Trade Unions. "We have mobilized forces, the taxi industry will join the strike, the truck drivers will park trucks on the roads and leave them there, mineworkers will refuse to work, the general public will support the strike," he said.
The strike has affected tens of thousands of commuters.
April 18, bus drivers went on strike, demanding a 9.5 percent increase for the first year, down from an initial demand for 15 percent. "But our employers are stuck on 8 percent, refusing to give us that 1 percent to meet our 9 percent demand," the union official said.
South African Transport and Allied Workers Union representative Zanele Sabela told the news service eNCA Monday that the strike is continuing. "The ministers have urged us to come up with a resolution, but the employers have given us an ultimatum to accept the offer on the table'" Sabela said.
"The problem with the offer is that it is only for 11 months. The employers are robbing workers of one month's salary increase."
Monday, South African Municipal Workers responsible for waste removal and collection marched across the capital city, accusing the City of Tshwane of exposing them of unsafe working conditions and diseases.
Also this week, violent overnight protests broke out in KwaZulu Natal at a toll plaza. Some 35 trucks were damaged and looted in a protest against the employment of foreign nationals.
Lastly, a one-day national strike was called by the South African Federation of Trade Unions, a group of 30 bodies representing approximately 800,000 workers that says the hourly minimum wage of 20 rand ($1.61) amounts to "slave labor." The group, formed after a breakaway from the ruling party-aligned Congress of South African Trade Unions, also wants the government to do more to address poverty and create jobs and scrap proposals to make it more difficult to strike.
Meanwhile, strikes are underway in Benin, Algeria, Cameroon, Ivory Coast, Ethiopia, Ghana and Nigeria.
AFTER YEARS IN EXILE, A 'FRITTER SELLER' PLOTS POLITICAL COMEBACK
(GIN)—Ending four years in political exile, Dr. Joyce Banda, once demeaned as a mere "fritter seller," returned this week in full form, risking possible arrest as she greeted crowds of joyous supporters at the Blantyre airport and in her hometown.
The second woman to lead an African country and the first woman president in Malawi, Banda assured her party faithful that she played no role in the widespread corruption scandal uncovered during her brief administration. "I am not afraid," she said defiantly. "If they want they can come and arrest me because I have not done any wrong."