'Political prisoner' Herman Bell free after 45-year incarceration
NAYABA ARINDE Amsterdam News Editor, AUTODIDACT 17 Special to the AmNews | 5/3/2018, midnight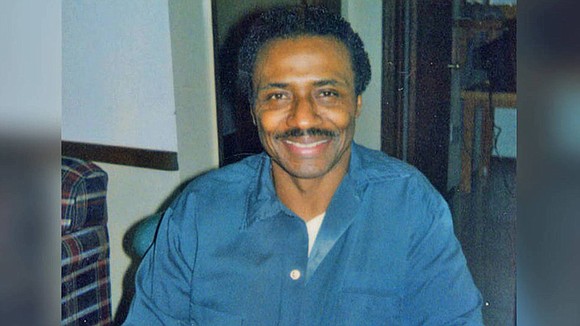 March 14, the Parole Board determined Bell's "debt has been paid to society" and granted his release on his eighth attempt, citing the 70-year-old's advanced age, good disciplinary record, earning college degrees, counseling other inmates, the sincerity of his repentance and his low-risk of reoffending.
In Albany, Friday, April 13, Justice Koweek heard arguments from PBA attorneys representing Piagentini from the lawsuit attempting to halt Bell's parole. PBA lawyers contend the Parole Board erred by not considering the sentencing judge's and prosecutor's suggestions Bell never be released, and that they also didn't consider the victim impact statement she submitted.
However, the State Attorney General's Bureau of Litigation argued that "the Parole Board did its job," saying Piagentini doesn't have the legal right to sue for a do-over parole hearing because relatives of victims can't challenge a board ruling.
Attorney Michael Bachman agreed. "The standard for reversing the decision of the Parole Board is virtually unappealable and irreversible," he said.
Activists argue, "It's not what the police say, it's what the law says."
"The PBA, de Blasio and Cuomo should be investigated for obstructing justice and intimidation of a Parole Board that followed the law," said Assemblyman Charles Barron. "It's just a way to make Bell suffer some more and to intimidate people. It could set a precedence for future parole appearances."
Along with the Rev. Herbert Daughtry, Barron had written recent articles of support for Bell's release in the Amsterdam News.
Bell and two BLA comrades were convicted of the May 1971, Harlem murders of NYPD officers, Jones, 33, and Piagentini, 28, after allegedly luring them with a phony 911 call. Also, Bell later pleaded guilty to manslaughter in the death of a San Francisco cop.
The uproar caused by Bell's parole approval conjures up the recurring question of whether incarceration is meant for rehabilitation or for vengeance.
"The Judge correctly applied the law," said Bell's attorney, Robert Boyle. "We look forward to welcoming Herman home."
Bell was initially scheduled to be released April 17, but Koweek issued a temporary restraining order last week postponing his parole pending the lawsuit's outcome. He set Bell's new release for April 27, at 5 p.m. One of his co-defendants, Washington, died in prison, and Muntaqim, 66, has a June parole hearing.
Teacher, WBAI radio host and activist Dequi kioni-Sadiki told the Amsterdam News, "The New York State Parole Board is an independent body charged with reviewing and determining who of the more than 12,000 cases presented to them each year will be released on parole.  For people up for parole and their families, preparation for this process is incredibly stressful, daunting and very often traumatizing and disappointing, especially when each denial means another two years before the next appearance.  In the case of Herman Bell, it was his seventh Board appearance that brought light and hope to the end of the 46-year tunnel he, his wife, son, daughter-in-law and granddaughters have lived. While the Parole Board used its lawful and discretionary authority to release Mr. Bell on parole, it resulted in the PBA waging an unrelenting media and political campaign of falsehoods, demonized mischaracterizations and dubious misrepresentations about him, going so far as to issue a 'safety alert' to falsely indicate that this 70-year-old elder poses a 'clear and present danger to police officers,' making threats that 'We're gonna get you. We don't care why you're behind bars. We just care that you are behind bars,' and spending thousands of dollars on primetime radio ads during baseball games to influence and encourage people to click a box on their website to 'keep cop killers in jail' Each click sends 62 letters to the New York State Parole Board. The PBA has used bullying and scare tactics in their attempts to frighten the public into believing Mr. Bell is 'evil' and intimidated the Board, the judge and elected officials into rescinding the parole decision.  
"None of the PBA's claims against Mr. Bell are an accurate reflection of the truth. The truth is keeping Mr. Bell in prison [has served] as nothing more than cruel and unusual punishment. It will not contribute to justice or public safety. The truth is older people and people convicted of the most serious crimes have the lowest recidivism rate, pose virtually no risk to public safety, are the least likely to commit a crime. The truth is Waverly Jones Jr., the son of slain officer Waverly Jones, supports his release despite the harm caused his family, and in a letter he wrote to the Parole Board he said, 'Keeping Mr. Bell in jail after all of these years would serve no purpose other than vengeance, something that we as a family do not need or want.'"