Talking SCHOP! Found in the triangle: Lost in the moment
KYSHA HARRIS AmNewsFOOD Editor, @SCHOPgirl | 5/3/2018, 3:57 p.m.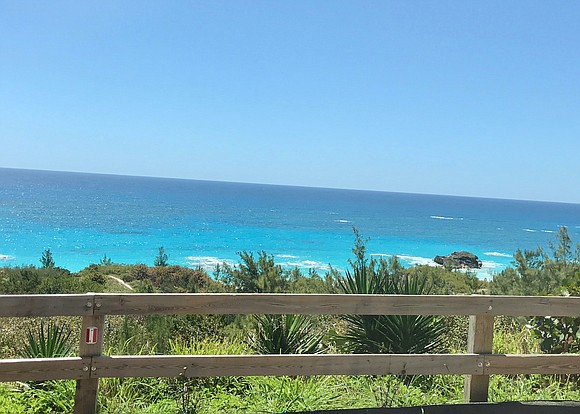 Day 2 in Bermuda at the Hamilton Princess and the last full day to soak in all the sun, fun and food of the island. Slow to rise after a great dinner at Marcus the night before and a walk into town for more Dark 'n Stormy rum cocktails and dancing to a live band. A workout, then straight to the beach!
Another hard day in paradise at the beach, now with new friends in tow we met on the jitney ride back to the hotel on the previous day when we began harmonizing "Between the Sheets," "Whoa-whoa, whoa-whoa, oooooo…baby (baby)." Again, copious amounts of rum in my veins. Shout outs to our woman driver with the playlist!
With a workout done and all of the lounging and swimming we had to do, I was throwing down on a Marcus Pitts Bay burger with cheddar, bacon and spicy aioli on a housemade English muffin—with fries! I don't know if it was the location or the rum talking, but an exceptional well-cooked burger here.
My travel partner Angie and I had to leave the beach sooner than we would have liked to attend an event of the Bermuda City Food Festival. My acute food ears heard someone talking about it the day before. I mentioned it to Marcus manger, Les, at dinner and knew he was the right person to assist us.
A quick walk down Front Street to Pier 6 found us in the midst of Just Desserts Cake Edition, led by Food Network chef-testant, Porsha Kimble (@YourCakeDiva). Guests were learning how to decorate cakes while competing to win a KitchenAid mixer. Congratulations to Selena Piper of Hamilton Parrish, Bermuda! Thanks to senior events coordinator, Thomas Lightbourne, for
the hospitality.
On our final night we dined with our new friends at a local restaurant, but the highlight was returning to our hotel and a dessert bonanza at Marcus. We doubled down on those doughnuts with the caramel and chocolate sauces and the rum cake with Dark 'n Story ice cream. However, the addition of the lemongrass crème brulee with gingerbread topping made me weep for our early departure the next morning.
It was a short visit to Bermuda, but an everlasting memory to treasure. Thank you to all who made it happen!
Happy eating and thanks for reading!
Kysha Harris is a food writer and editor, culinary producer, consultant and owner of SCHOP!, a personalized food service in NYC for more than 15 years. Follow her on Twitter and Instagram, @SCHOPgirl, on Facebook, /SCHOPnyc, and her blog, www.talkingSCHOP.wordpress.com. Questions? Comments? Requests? Feedback?  Invitations!  Email AmNewsFOOD at AmNewsFOOD@SCHOPnyc.com. Follow us on Instagram, Twitter and Facebook @NYAmNewsFOOD and tag us with #SoAmNewsFOOD with your food finds!