Attorney General Eric Schneiderman, accused of violence, resigns
HERB BOYD Special to the AmNews, STEPHON JOHNSON Amsterdam News Staff and NAYABA ARINDE Amsterdam News Editor | 5/10/2018, midnight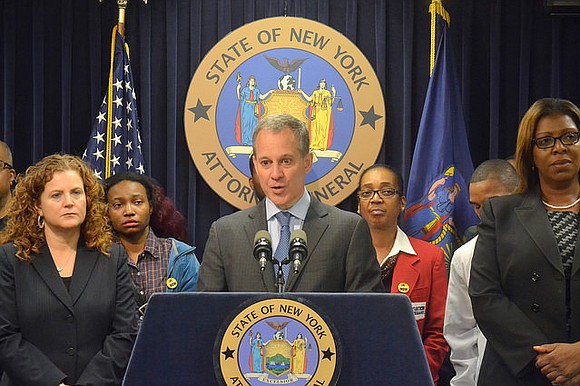 The NYPD's Sgt. Brendan Ryan told the Amsterdam News, "The NYPD has no complaints on file. If the NYPD receives complaints of a crime, it will investigate them thoroughly."
Elected officials, aspiring and otherwise, were quick to weigh in on the allegations against Schneiderman and said that it was time for him to go. In a statement, New York Senate Democratic Leader Andrew Stewart-Cousins said, "The allegations made against Eric Schneiderman are credible and abhorrent. He has made the only decision that is possible. These four women who have come forward are heroes that have stopped further abuse."
"The descriptions by these brave women of the physical and sexual abuse they suffered at the hands of New York Attorney General Eric Schneiderman are sickening," stated New York gubernatorial Candidate Cynthia Nixon. "It is the right decision for him to resign immediately. The women who came forward so courageously to tell their stories and spared others from suffering are heroines."
Attorney Brian Figeroux, who represented Abner Louima for a time, told the Amsterdam News, "Because of Schneiderman's position—then as the attorney general—he must be held to a higher standard. Because of his advocacy and the role he took, he put himself on a certain higher moral ground, then you then must be judged by that standard that you set yourself. It was to be expected that he resigned."
Cuomo, at a naming ceremony for the Governor Mario M. Cuomo Bridge (formerly known Tappan Zee Bridge), told a group of reporters that the New Yorker story was a "very powerful and damning statement of facts." New York City Mayor Bill de Blasio said that Schneiderman should face charges and if there are other women who have been hurt by the former AG to come forward.
Lawmakers met for two hours the morning after Schneiderman's resignation amid speculation of who would succeed Schneiderman. Names that have already made their way through the rumor mill include former U.S. Attorney Preet Bharara, New York City Public Advocate Letitia James, New York State Sen. Michael Gianaris, New York City Deputy Mayor Alicia Glen, U.S. Representative Kathleen Rice and former New York State gubernatorial candidate Zephyr Teachout.
"Two days after allegations against the former attorney general surfaced, we are all still coming to terms with his alleged shocking and grotesque behavior," James told the Amsterdam News a day after the shock waves hit the city. "In line with its constitutional duties, the State Legislature is carrying on a process to select a temporary replacement. I am honored by the encouragement and support I have received and am considering the best ways to continue serving New York. I remain moved by the tremendous courage and bravery that the survivors who came forward demonstrated, and am reminded that women's voices are needed more than ever at the highest levels of government and in every corner of our society." To run for New York State attorney general, a candidate must be a lawyer and have five years of New York residency.
"I am seriously considering running for attorney general," said Teachout on Twitter. "It is a major decision & will take real thought. For today, I'm grateful for the women who dared speak up against one of the most powerful men in the U.S. & for Barbara Underwood, the brilliant woman who will be acting NY AG."