Bill Rowe, a war correspondent, influential columnist and publicist
Herb Boyd | 5/10/2018, 1:07 p.m.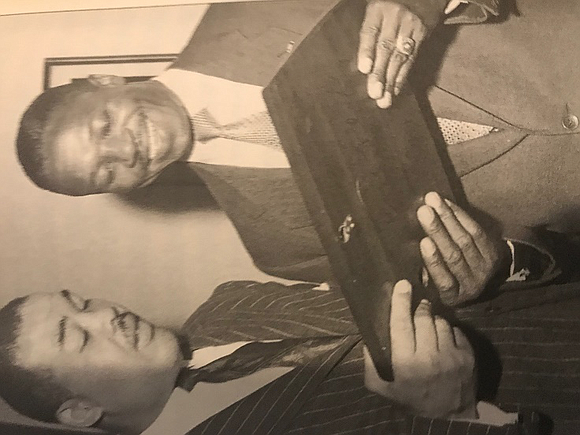 Whether as a columnist, confidant, war correspondent or deputy police commissioner, William Leon Rowe allowed very little news and information to escape his all-seeing eyes or his all-hearing ears. Beginning as a porter and elevator operator in the office of famed theatrical producer Florenz Ziegfeld and rising to become a New York City deputy police commissioner (without ever being a police officer), Rowe was an adventurous, intrepid man-about-town, who was connected practically to every nook and cranny of the city, if the not the globe.
In her deeply informative history, "Meet Me at the Hotel Theresa," Dr. Sondra Kathryn Wilson opens a chapter, "The Sidewalk Captains," with this reflection on the ingenious Rowe: "When the hotel opened its doors to Blacks in 1940, Rowe seized the opportunity to make a name for himself by becoming the most famous chronicler of the hotel in its heyday."
Another impression of the ubiquitous Rowe can be found in Mark Whitaker's "Smoketown," an engrossing account of the Black experience in Pittsburgh during a score of years from the 1930s to the 1950s. "Billy Rowe had driven from Harlem [to Daytona Beach, Florida], where he was settling back into his work as the [Pittsburgh Courier] paper's entertainment columnist after two years reporting on Black troops in the Pacific," Whitaker wrote.
It takes only a couple of paragraphs to indicate Rowe's wide range of interests and his unique fortune to be at major flashpoints in American history and prepared to report on them, even as he was so often inextricably involved in them.
Born Dec. 31, 1914, in St. Matthews, S.C., Rowe was the only son of a cook and a homemaker. As a child he collected coal that fell from trucks and sold it. He once told a reporter that his father, John, had told him, "Be above the crowd. Not in mind—that's just arrogance—but in deed."
Rowe lived up to this advice, mainly by insinuating himself into the crowd where he could get a better view of what was happening and how best to manage it or capitalize from it. Right from his early association with Ziegfeld, Rowe began parlaying relationships into connections, and the noted entertainment producer arranged for him to get the job with the Courier. From this opportunity he was soon a syndicated columnist in hundreds of Black newspapers, including the Amsterdam News.
His column, as Wilson observed, was a fount of gossip, and his office "was right across tahe street from the Theresa, so he could see who was coming and going in the hotel." Moreover, he had a coterie of informants who were eager to provide him with the latest news as well as to bolster an ego that many said was inflated to the point of bursting. The column was a goldmine of entertainment facts, whether Hollywood tidbits, Broadway developments or the music industry in general. Rowe knew who was doing what to whom and why.
But it was Rowe the war correspondent who was in the real and most dangerous mix. The island of Bougainville in the Pacific was heavily defended by the Japanese when he arrived there to report on the battles. "After a bloody day of fighting," Whitaker recalled, "Rowe volunteered to go back into the jungle with eight GIs to retrieve the wounded. He shouldered rifles while the soldiers carried stretchers, and when the search party came under attack, he helped the Blue Helmets circle back and kill three Japanese snipers."